Local
Harvard's Hasty Pudding still bars female performers. Meet the women trying to change that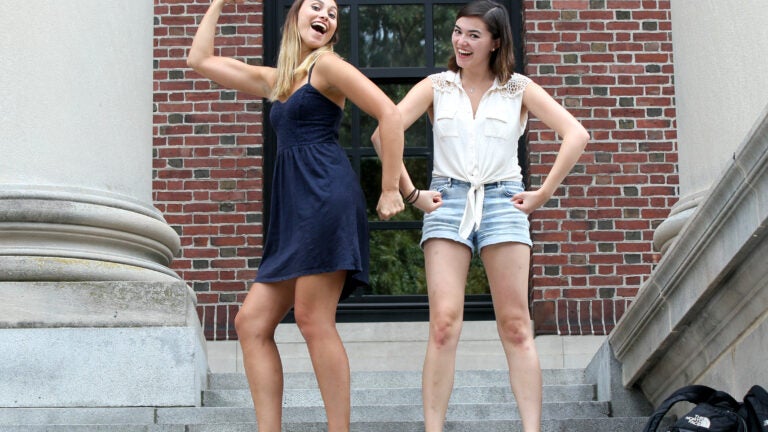 The closest a woman has ever come to performing in Harvard's Hasty Pudding Theatrical Club was in 1955, when a costume designer named Lucy Barry shrieked from the wings.
But she never stepped foot on stage. The only reason her howl made it into the show is because none of the 20 men involved in that year's production could screech convincingly.
Sixty years later, a group of women are fighting for their right to step on stage. At least 17 women plan on auditioning on Sept. 12 for what has traditionally been an all-boys club since it was founded in 1795.
On September 8, 1795, 21 Harvard students gathered in a dorm room and decided to form a secret society to foster "friendship and patriotism,'' according to the group's site. Each of the members agreed to take turns providing a pot of hasty pudding—an oatmeal corn mush referenced in "Yankee Doodle''—for meetings.
In its early years, the group orchestrated mock trials to try faux crimes including "insolence'' and "contempt of the club.'' The riotous events became so popular that there was a trial at every meeting. But it wasn't until 1844 that the first theatrical production was staged, with one member dressing in drag to become the club's first "hairy-legged heroine.''
Over the years, women have earned the right to participate as members of the club's business staff, tech crew, band, writing and music teams, but they're still banned from acting onstage. Amy Poehler, who the group named its "Woman of the Year'' in January, called out Hasty Pudding when she came to Harvard to accept the award.
"I want to say that it's unsettling that there will be no women on stage tonight,'' she said, according to a WBUR report. "You know it's time for a change when the Augusta National Golf Club has lapped you in terms of being progressive.''
Many women at Harvard agree, which is why they're auditioning. Junior Karen Chee said she received an email from fellow Harvard students Tess Davison and Olivia Miller, who encouraged her to try out.
"I don't think any of us thought it would be as big of a deal as it's become,'' she said. "But I'm so glad that our protest has received so much attention. It's just common sense. Women are just as talented and silly and funny and capable as men.''
This is not the first time women have been allowed to audition. In 1993, female students tried out, but none were cast.
Robert Fitzpatrick, the president of Harvard's theatricals, told The Crimson that the group has "seriously considered'' adding women to the cast since the spring. He said in a statement that changing the gender composition will require "structural changes to the production, the company, and our larger institutional traditions.''
These institutional traditions, Chee said, aren't a compelling reason to prevent women from stepping, singing and shrieking onstage. Hasty Pudding is the premier theatrical group on campus, Chee said, because it's led by professional directors and choreographers. It does female performers a disservice to prevent them from getting the same onstage experience that their male counterparts receive.
"Harvard has a troubled history of gender and race, and continuing to exclude women will accurately promote incorrect values of past,'' she said. "If your only good reason to hold onto something is a tradition, it's not a good reason, it's an excuse and it's a lazy one at that.''
Chee isn't sure what to expect when she auditions. But she and the other women plan on taking it just as seriously–or goofily–as the process calls for.
Related gallery: Famous Harvard graduates
[bdc-gallery id="145510″]