Local
MIT students build clock to honor Texas teen arrested over mistaken clock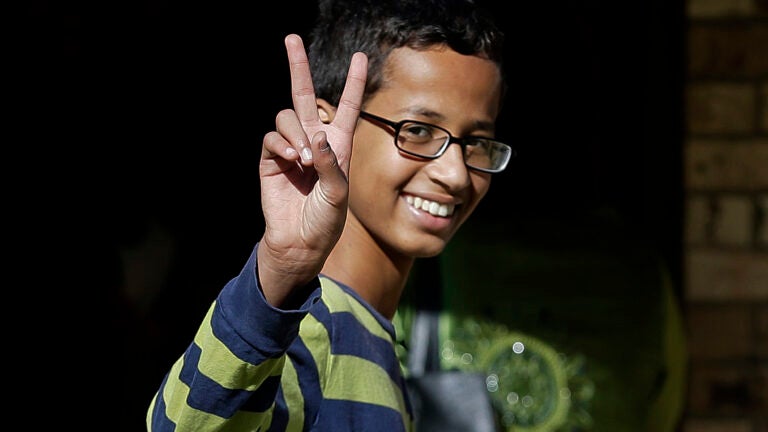 MIT students showed their support for 14-year-old Ahmed Mohamed this week by building a clock of their own.
Ahmed, a ninth-grader in Irving, Texas, rose to fame earlier this week after he was arrested over bringing a clock that teachers mistook for a bomb to class. Ahmed is Muslim, and many think he was racially profiled by teachers. To show him some support, they took to Twitter with the hashtag #IStandWithAhmed.
On Friday, MIT students put the hashtag beneath a clock they made and hung both over a university building entrance.
[fragment number=0]
This isn't the first time those at the school are expressing their support of Ahmed. On Wednesday, an astrophysics fellow invited him to visit the campus and take a tour of the Center for Theoretical Physics. Ahmed responded by saying MIT is his "dream school.''
MIT began taking down the clock around noon. José Gómez-Márquez, an MIT medical device researcher who tweeted the photos, told Makemagazine that, "This is normal… [these hacks] go up in the middle of the night and MIT eventually takes them down.''
[fragment number=1]
[fragment number=2]
Related gallery: MIT through the years
[bdc-gallery id="114337″]