Local
Former MIT professor and Fall River native Ernest Moniz trumps Trump on Stephen Colbert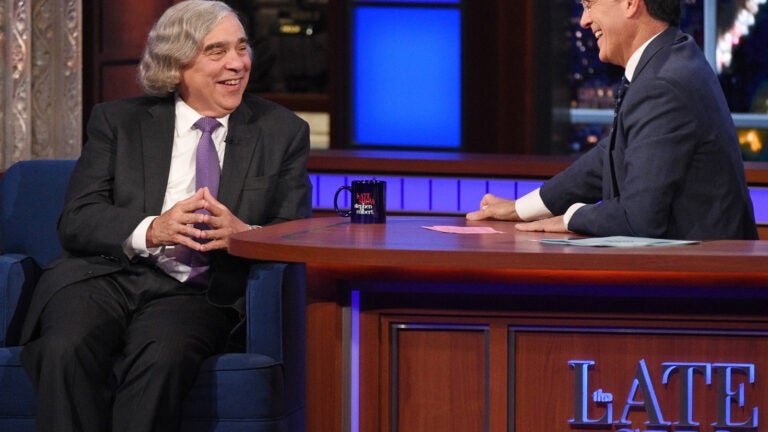 Donald Trump's interview Tuesday night on The Late Show with Stephen Colbert was merely the opening act.
Those who were awake late enough witnessed Colbert's second interview with Fall River native, nuclear physicist, cult Internet hero, Portuguese knight(!), and Secretary of Energy Dr. Ernest Moniz.
Moniz appeared on Colbert to reiterate that the nuclear deal with Iran is a done deal.
"The deal's going through and frankly I think it will stop Iran from having a nuclear weapon,'' said Moniz, who was the head of MIT's physics department before his 2013 appointment as head of the Department of Energy.
Moniz, who's been called President Barack Obama's "Iran deal MVP'' and has become somewhat of an Internet sensation for his eccentric hair and social media prowess, defended the agreement's 24-day inspection clock.
"It's the first time there actually is this requirement to cooperate,'' said the Boston College grad, who helped negotiate the deal this summer with Secretary of State John Kerry.
Colbert asked if 24 days was not enough time for Iran to conceal any nuclear development.
"There have been allusions to throwing drugs down the toilet. It doesn't work that way, the nuclear material,'' Moniz replied, to cheers from the audience.
Later in the interview, Colbert presented Moniz with a copy of Trump's book The Art of the Deal, which the host had his first guest, another prominent negotiator, sign earlier in the show.
"What does it say,'' Colbert asked.
"'To Ernest','' Moniz read. "'Better luck next time.'''
(Colbert had suggested that specific saying to Trump, but the GOP candidate said he would write something nicer: "I don't want to be a wise guy.'' So much for that.)
But Moniz was quick with comeback:
"Do you happen to have a copy of the Iran deal that I could sign?''
More photos of "Sir Ernie of Fall River''
[bdc-gallery id="121609″]