Local
Four things we learned in Edward Kennedy's new oral history
Including the Clintons, alcohol, and the vice presidency.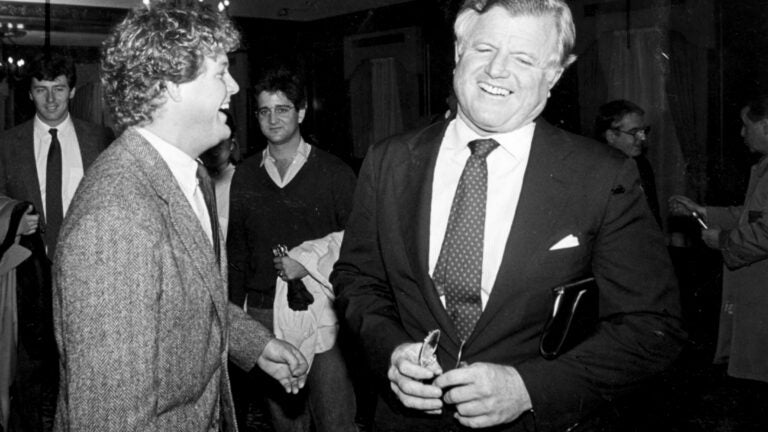 A collection of interviews with Senator Edward Kennedy and his colleagues and friends released on Wednesday reveal intimate details about the late "Lion of the Senate.''
The collection of 280 interviews in all, including 29 with Kennedy himself, were conducted by historians with the University of Virginia's Miller Center beginning in 2004.
Here's a rundown of four of the most interesting new factoids about Kennedy, including his decision not to run for president in 1968, his distaste for how the Clintons handled the early '90s push for universal healthcare, and his alcohol-fueled job interviews in Congress.
Why Kennedy didn't run for president
After his brother Robert F. Kennedy was assassinated in 1968, fellow Democrats urged Ted Kennedy to take his place and run for the nomination. He declined, citing his grieving family and his young age. Later, he would cite the damage to his reputation by the Chappaquiddick incident.
He revealed another reason in a 2005 interview with the Miller Center. If he didn't win the Democratic nomination and was instead offered the Vice Presidency, he said that would have been a step down in terms of his ability to have a public impact.
"I always felt that I had much more opportunity to affect public policy in the Senate,'' Kennedy said, rather than as vice president.
A Mad Men-like interview in Congress
Hoping to get placed on a few subcommittees in his early Senate years, Kennedy sought out Sen. James Eastland of Mississippi, who was chairman of the Judiciary Committee. As The New York Times details, Eastland greeted Kennedy at 10 a.m. by asking, "Bourbon or scotch?'' Kennedy chose scotch, and then asked for ice and soda.
Kennedy wanted to be on panels for immigration, civil rights, and the Constitution. For each panel, Eastland had one condition: Drink up.
"I can't believe this drink. It'll curl your hair,'' Kennedy said to a Miller Center historian in 2005. "He was down there fixing something, and I poured about half of it in the flowers—or whatever the hell was around—and drank the rest of it.''
Three drinks later, Kennedy was on those three subcommittees. He then found himself "smelling like a brewery'' in the early day.
"Gurgle, gurgle, gurgle, and that was the end. It's quarter to 11, and I'm barely able to get up,'' Kennedy said.
The Clintons' health care strategy was a "catastrophic mistake''
Kennedy criticized the method in which Bill and Hillary Clinton went about their failed plan for universal health care in the '90s. Rather than take an existing health care proposal and modify it, Kennedy said, the Clintons tried to start from scratch. They also did not contact members of Congress about their plan.
"I think everybody understands now that that was a catastrophic mistake,'' Kennedy told a historian with the Miller Center in 2008. "It became disjointed, it became uncoordinated, and there were a number of other factors that interceded and became important, and moved and shifted the calendar back on it, and that caused an unraveling of the whole process.''
Still, Kennedy also praised Hillary Clinton for her mastery of the subject.
"She mastered the details of this, appeared before our committee and other committees, answered all the questions, and they were complicated and difficult questions. She understood it and she was an effective spokesperson for it,'' Kennedy said.
Kennedy blamed Harry Reid for immigration bill's failure
Rather than blame Republicans who opposed it, Kennedy said the 2007 immigration reform bill failed because Senate Majority Leader Harry Reid was "never really interested in it until the very end, and at the very end it was too late.''
Rather than allow amendments on a bill and make it more amenable for Republicans, Reid "went out to manufacture a situation that would antagonize Republicans,'' Kennedy said to a historian in 2007.
Photos: John F. Kennedy in New England
[bdc-gallery id="463681″]