Local
Morning Updates: Ann Romney tells all in new book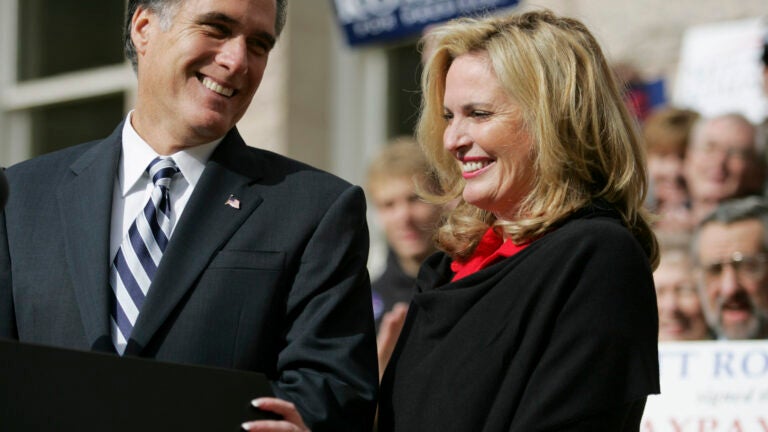 Good morning, Boston, on this rainy morning. Ann Romney's new tell-all explains how she responded to her multiple sclerosis diagnosis, Boston 2024 officially closes out its debts, and the rest of the news you need to know.
And so it ends: "Two months after shutting down, the defunct Olympic bid committee, Boston 2024, has reached agreements with its vendors and settled its leftover debts, according to a spokesman for the committee. The debt was retired with additional cash donated by former bid leaders and committee members, as well as the largesse of vendors who agreed to take less than they were owed. In taking less, the vendors will consider unpaid work to be donations to the lost cause of bringing the Olympic Games to Boston.'' (The Boston Globe)
Three Comma Club: "The Forbes 400 list was updated Tuesday, and six billionaires from Massachusetts made the cut. Abigail Johnson, the president-CEO of Fidelity Investments, topped Bay Staters at No. 31 on the list with a net worth of $14.2 billion. The 53-year-old Johnson from Milton was the sixth highest woman on the list.'' (Boston.com)
Ann Romney tells all: "By the end of the first chapter of Ann Romney's new book, you learn that she has had a miscarriage, was diagnosed with multiple sclerosis, and that husband Mitt worried about intimacy issues with his wife. In an age in which we want our politicians and their families to put it all out there, Romney does just that in her memoir, In This Together, released Tuesday.'' (The Boston Globe)
Edward Kennedy's congressional interview – drink up! Senator Edward M. Kennedy always managed to get along with James O. Eastland of Mississippi, the arch-segregationist and chairman of the Judiciary Committee for his first 16 years in the Senate. But the first time they met, Mr. Kennedy paid an 80-proof price.'' (The New York Times)
Hotel gyms bring everyone together: "Just like any other morning on a Boston Red Sox road trip, interim manager Torey Lovullo woke up Tuesday and headed for the gym at the team hotel. Only this time, he met a new exercise partner during an unforgettable workout that was anything but routine. When Lovullo arrived to lift weights, there was President Barack Obama pumping iron in a long-sleeve T-shirt and sweats.'' (Boston.com)
The ugly truth of being a woman in sports media: "Those of us who dare invade this mostly male space are generally accepted, but there remains a vocal minority committed to forcing women out and rolling things back to the good ol' days, when women talked about recipes and PTA meetings and shoes. … 40 years after Robin Herman became the first female reporter to enter an NFL locker room, women are still fighting a war against rampant sexism in the industry, with Twitter and Facebook serving as the new frontlines.'' (Sports Illustrated)
The Goodbye: Is it lunchtime yet?
[bdc-gallery id="105948″]