Local
The rain is starting to get to the Burlington Police Department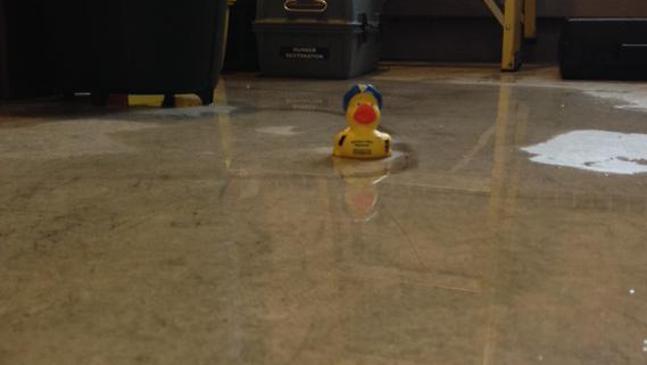 It's only day one of the heavy rainfall expected this week, but it seems like Burlington police have already had enough.
As Wednesday's storm flooded streets and halted commutes, it also flooded the Burlington Police Department, pushing the person behind their social media to document the station's slow unraveling on Twitter.
Insanity started to set in around 2:30 Wednesday afternoon as police posted photos of puddles, buckets, and trash bags strewn over cubicles to keep them dry. "Nothing is more relaxing than the sound of a light rainfall & a bubbling brook. #zengarden,'' the department tweeted.
[fragment number=0]
A few minutes later, puddles had accumulated to the point where police could float a rubber duck around the station, referring to the mess as a "koi pond'' — where alleged criminals can relax "when they are getting interrogated.''
[fragment number=1]
This is the third time the station has flooded this month, according to police. They've become "experts in H2O relocation,'' they said in one tweet.
Sensing that the department was fading fast, a resident tried to offer a helping hand, asking if there was anything she could contribute or bring to the officers.
[fragment number=2]
With no chance of relocating, the department decided to express themselves through poetry, posting two haikus just after 3 p.m.
[fragment number=3]
[fragment number=4][fragment number=5]
[fragment number=6][fragment number=7]
No, black mold is not good, but luckily the Burlington police station only has "a little'' bit of it, they clarified in another tweet.
When water-logged ceiling tiles collapsed and fell, the department took solace in song, tweeting lyrics to "Here Comes the Rain Again'' by the Eurythmics.
[fragment number=8]
Unfortunately for the Burlington police, it's too soon to tell how much rain Hurricane Joaquin will bring to the area over the weekend or what that will do to their sanity. Follow them on Twitter @burlingtonpd to see how they hold up through the remainder of the storm.
Related gallery: Severe local weather through the years
[bdc-gallery id="140998″]