Local News
Larry Lessig, Harvard law professor, says he's scraping to get by as presidential candidate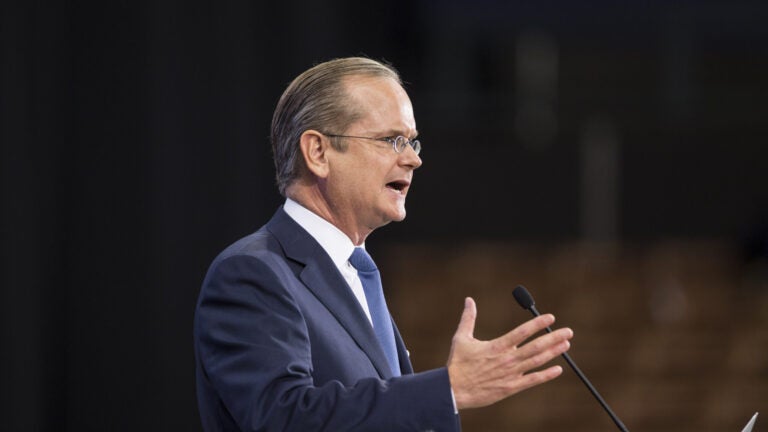 Larry Lessig, a Democratic presidential candidate running on the issue of reforming campaign finance rules, has been put in a bind — because of campaign finance rules.
The New York Timesreported Thursday that the Harvard law professor and his family are scraping to get by since he announced his candidacy for president in early September.
That's because campaign finance rules dictate that candidates cannot draw a salary before the first candidacy filing deadline in the states where they're running. For presidential candidates, the first filing deadline comes in early November.
Meanwhile, according to the Times, Harvard cannot pay Lessig a salary while he is on leave to seek office.
"I can't even borrow money, except from credit-card companies,'' Lessig, who is married with three children, told the Times. "The assumption was that I would be making the money in the family.''
And he isn't getting any favors.
Lessig was not invited to next week's Democratic primary debate, despite raising more than $1 million in the last month — more than at least one other Democratic opponent who will be partaking in next Tuesday's event. Lincoln Chafee, who has mostly self-funded his campaign's reported $400,000, and Jim Webb, who has yet to report any fundraising numbers, will both be included in the debate.
Lessig's campaign blames the Democratic National Committee, as well as the national media, calling his exclusion "ridiculous and frankly 'un-Democratic.''
In an op-ed for Politico, Lessig said polling firms –"taking a cue from the DNC'' — only included him in three of 10 polls. Since debate criteria is based on poll performance, Lessig says the deck has been stacked against him.
When Lessig isincludedinpolls, he performs well within the margin of error of Martin O'Malley, Chafee, and Webb.
Lessig announced his single-issue campaign to reform elections on Sept. 6, having reached a goal of $1 million in crowdfunded, pledged contributions in less than a month.
As president, Lessig said he would try to pass the so-called Citizens Equality Act, which would include public funding for elections, vouchers for voters to contribute to candidates, rules against the government/lobbyist revolving door, the prohibition of gerrymandering, and the repeal of restrictive voting laws.
However, his candidacy has confounded some political observers.
For example, an article in The Atlantic on Wednesday praised Lessig's work on copyright and Internet issues, as well as his policy proposals. But ultimately the writer asks why, in a Democratic primary that already has one outsider candidate, Lessig was going "full Nader.''
I can imagine understanding Lessig's candidacy not as a firm policy proposal but as a provocation, as a statement about How Bad Things Have Gotten. When Lessig speaks, you can hear the urgency and anxiety in his voice. But by running for president, he's still made an issue that unites 84 percent of Americans into one about him, his resume, and his skills as a communicator.