Local
Who's That app created by two Bostonians relaunches with free drink feature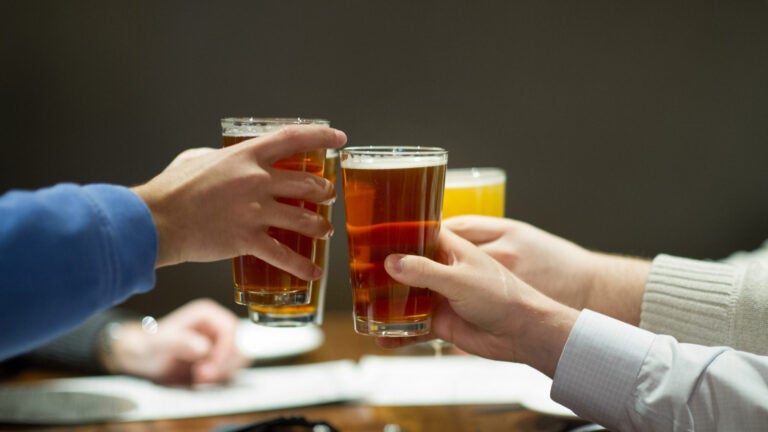 When they went out in Boston during their undergrad years, Sam Davidson and Brian Sachetta spent a lot of nights standing in a bar looking at their phones. They weren't the only ones. Everyone else seemed to be doing the same thing, even though the best nights they had were spent meeting new people who gave them great stories to tell the next day.
The friends decided to do something to make sure people spent more time at the bar doing what they'd come there to do — have conversations with new friends, rather than stare at their screens. They developed Who's That, a social app designed to help groups of friends meet new people, and launched it in July 2014.
Unlike Tinder, which Davidson said often leads to boring, meaningless conversations between two people, Who's That connects groups of friends.
"It works for people looking for dates, so you can bring a wingman or wingwoman, but is also looks for people who just want to hang out and talk to new friends,'' he said.
In the old version, Who's That users filled out profiles saying who was in their group of friends, and could then scroll through the profiles of nearby groups to arrange to meet up.
But the app wasn't perfect. Users were able to look at other group profiles, but couldn't message each other before meeting up, so there was no "screening process.'' It meant some of the meet-ups were duds because people's personalities didn't mesh well.
Davidson and Sachetta, graduates of Boston University and Boston College respectively, decided to make some changes to their app. The new Who's That app launches Tuesday, and one of the most notable changes is that users can message one another before deciding to meet up.
"During testing of the new app, we've gotten some great reactions from people when they go out,'' Davidson said. "It's a pretty unique experience when you walk into a bar, drop your name – and a new group of guys/girls and complimentary drinks appear.''
That's right: free drinks. Even though Massachusetts prohibits "free drink specials'' as part of its strict drinking laws, Davidson said users don't have to pay for the first round of drinks at more than 20 bars in the Boston area, including The Brahmin, Lucky's Lounge, Scholar's, Sterling's, and Sissy K's, because the app picks up the tab.
There is one caveat, though. The drink has to contain Fireball, the throat-burning, cinnamon whiskey.
Veteran users might also notice that the app ranks the most popular groups of friends every hour based on "likes'' they get on their profiles or the number of profile views.
But Davidson was quick to point out it's not a popularity contest. The highlighted friend groups will change every hour, so he said many people will get a chance at the spotlight.
"It's all about getting people in the Boston area out to have a good time,'' he said. "And this way, they're on their phones before they hit the bars.''