Local
In Cambridge, a promise of food security for students comes in a backpack
The state-funded backpack program will be studied as a pilot in a possible expansion thoughout Massachusetts.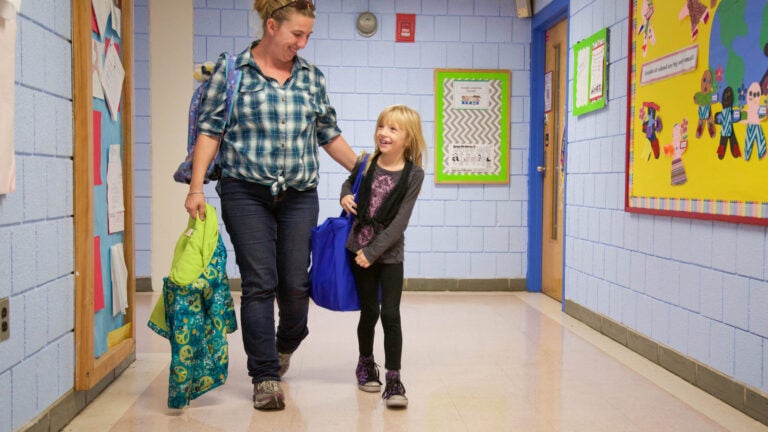 Every Friday at 6 p.m., Nancy McQueeney's daughter Miley carries a large, blue reusable bag, along with her Frozen backpack, into the car with a smile. McQueeney's three children then rifle through the bag, excitedly pulling out apples, yogurt, and sandwiches for the weekend.
The McQueeneys are enrolled in the Cambridge Weekend Backpack program, which fights hunger by providing food to students who have access to free breakfast and lunch all week, but are less sure when their next meal will come on the weekend.
For the past year, McQueeney and her family have been living in a Peabody motel, even sharing a bed she said. Her children had been diagnosed with lead poisoning and they needed to leave their previous residency. McQueeney then became ill, needing surgery. Shortly after that, her daughter Miley was also hospitalized.
McQueeney said the motel and commute expenses, along with medical bills, have made it impossible for her and her husband to save enough money for a new apartment. Due to her health issues, she said she's gone from working almost 60 hours a week to less than 15.
"We're barely making ends meet,'' she said.
McQueeney said for her kids, the bag provided by the backpack program is like a prize. For McQueeney, it's a promise of food security for her children.
The concept is simple: discreetly help children get nutritious food to eat over the weekend by placing prepared breakfasts, lunches, and snacks in their backpacks. Some schools disseminate the bags by placing them in students backpacks when they are at an activity, others let the students pick up the bags themselves before leaving in the afternoon. A national model for a weekend backpack program started in Arkansas about 15 years ago, and has since expanded to 160 local food banks and schools.
Alanna Mallon learned about the backpack program spreading nationally after listening to an NPR story during her commute, and thought it could have a great impact in the Cambridge school system, where her children attend.
In 2013, the Cambridge Weekend Backpack program was founded as a parent-pilot program at the Tobin Montessori School and Vassel Lane Upper School. Now Cambridge's program currently operates in 14 schools. Mallon said she hopes to have full implementation of the program across the city's 17 schools by the end of the year.
"It is an opportunity for us to put food in homes so students are able to come in on Monday ready to learn,'' she said.
In Cambridge, over half of the children in the public school system live in subsidized housing, and 38 percent of students qualify for free lunch.
"It's really impossible to teach kids who are hungry,'' said Mallon, who is also the education liason at Cambridge City Hall. "When you're hungry for lunch, all you can concentrate on is how hungry you are.''
Mallon said she believes this problem can be alleviated by the programs "backpacks,'' which cost $6 per student per week to produce, or $250 per student each year to make—with the help of on average 100 volunteers.
For the first time, Massachusetts funded the Cambridge weekend backpack program fully this year, with a budget of $110,000. Mallon said their program will also be studied as a pilot in a possible state-wide expansion. In Massachusetts, over 16 percent of children are food insecure, according to the 2014 Status Report on Hunger in Massachusetts. Although Massachusetts falls below the national average for low food security— under 15 percent in 2012—still 12 percent of households in the state dealt with low food security.
Mallon's program has inspired other communities in the state to invest in similar efforts.
Ross Richmond launched backpack programs at Somerville's alternative schools, Next Wave Junior High School and Full Circle High School, last year. The schools are considered high need, with 100 percent of students qualifying for free or reduced price lunches. They have expanded the program to the East Somerville Community School, Winter Hill Community School, and will be adding another school this year.
"We ask our students to be students during the week and we ask them to be students during the weekend,'' Richmond said. "You need nutrition and energy to be able to focus and be able to do homework on the weekend.''
The program is not funded by the town or state; it is an additive program the school chooses to partner with, supported by fundraising and community sponsors. Last year, the Somerville Backpack Program made between 80 and 90 backpacks per week. Ross estimates that this fall that could jump to 100 backpacks.
Though the Somerville program—the youngest of the mentioned food programs— is still solely creating backpacks, the Cambridge program has expanded to include pantries open monthly for students and their families. The Greater Boston Food Bank also offers pantries at local schools like Jamaica Plain, South Boston, Lynn, Roxbury, Lowell, Revere, and Lawrence, and they hope to have eight school pantry locations by this fall.
McQueeney said she never misses a pantry day, and finds both aspects of the Cambridge program to be vital to her family.
"I was talking to the family that is next to me in the motel, and the city that their kids go to in Chelsea doesn't do anything like this,'' she said. "I think it would help out the system a lot more if more schools did things like this. There would be less hungry people.''