Local News
No, a wave of 'blizzard babies' is not coming to Boston hospitals
"I've not had anyone that says to me, 'Oh, we didn't have anything else to do so we had a baby,'' said Dr. Jeffrey Ecker of Massachusetts General Hospital.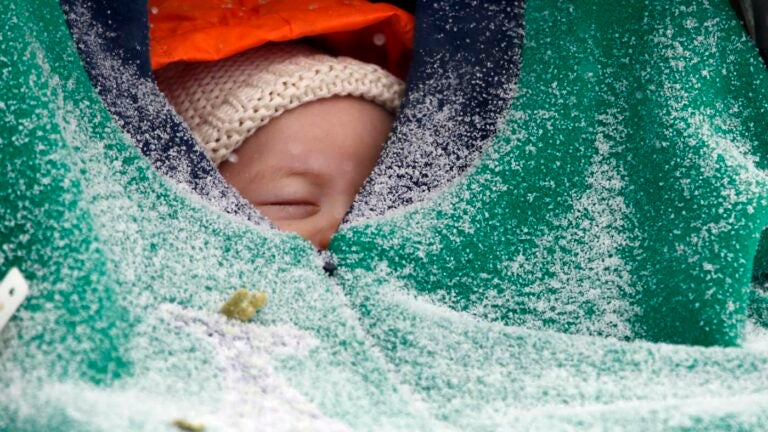 Dr. Toni Huebscher Golen has heard about the so-called "blizzard babies'' plenty of times before.
As the director of labor and delivery at Beth Israel Deaconess Medical Center, Golen sometimes sees little dips or jumps in the number of babies born in a certain time period. People always look back nine months and try to explain those fluctuations.
Were these babies the result of a winter storm? Was the T closed? Was a Valentine's Day celebration involved?
For individual families, fun conception stories like this abound (send them to us here!). But as a widespread phenomenon, there's just no evidence that a wave of babies is coming to Boston because of the severity of this past winter.
"It's a nice story. It's a nice thing that people talk about and makes people feel good. But the math of it just doesn't work out,'' Golen said. "The data doesn't support this very nice story.''
Next month marks nine months since February, when a record 65 inches fell on Boston. With roads, trains, and stores closed sporadically throughout that month, November could in theory be full of births to parents who had nothing better to do than sit at home and conceive a human life.
History suggests local hospitals don't have much to worry about.
"You'll always have anecdotal evidence that a baby was born at a certain time because a certain storm happened that winter before,'' Golen said. "That certainly may be true on an individual basis, but there's such variability involved in when babies are born that it really doesn't affect us in terms of volume.''
Data from the Massachusetts Department of Public Health showing the number of babies born over the past six years supports that argument. If there really was a blizzard baby boom, we would expect to see more babies born in October, November, and December — nine months after the snow generally hits.
The chart below shows that is not the case.
Births peak in the summer months of July and August. November is actually the second-lowest month for births, just in front of February. October and December also rank among the lower birth months.
Even the most extreme winters haven't resulted in a clear blizzard baby bump. After the famed Blizzard of 1978, which dropped 27 inches of snow on Boston, not many babies were born in November, nine months after the storm. (It was in the bottom third of birth months that year.)
In fact, more babies were born the following November, nine months after the forgettable winter of 1979.
"The numbers of unplanned or unanticipated deliveries that happen as a result of natural disasters don't really affect us in a very significant way,'' Golen said.
Dr. Jeffrey Ecker, the director of Obstetrical Clinical Research and Quality Assurance at Massachusetts General Hospital, agreed that blizzard babies are more anecdotal.
"It's not something I've clearly seen demonstrated. 'Yes, this bump is or is not specifically related to a prior event,''' Ecker said.
Doctors typically don't ask parents how they conceived. And there's been no mention yet of this past winter, Ecker said.
"I've not had anyone that says to me, 'Oh, we didn't have anything else to do so we had a baby. We were snowed in and this is what happened,''' he said. "I haven't heard that story yet. But maybe in a month I will.''
Gallery: Severe local weather in New England through the years
[bdc-gallery id="140998″]