Local
'New blood': 5 questions with the newest members of the Boston City Council
Get to know new city councilors Andrea Campbell and Annissa Essaibi-George.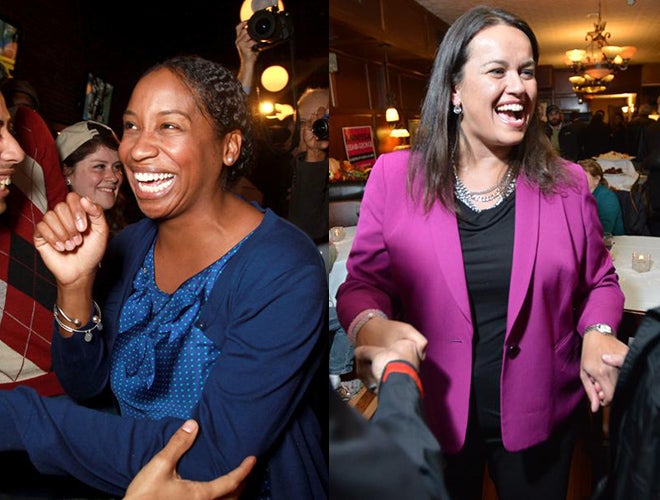 It was out with the old and in with the new in Boston on Tuesday, as voters selected two young new faces to the City Council.
Andrea Campbell, former legal counsel for Gov. Deval Patrick, was elected in Disrict 4, ending the 32-year term of Charles Yancey.
Annissa Essaibi-George, a teacher at East Boston High School and the owner of the Stitch House in Dorchester, was elected as an at-large candidate, pushing out 18-year councilor Stephen Murphy.
Their election doubles the number of women on the 13-person council from two to four. Both said that was an important step in the right direction.
"We've got racial diversity. We've got gender diversity. We've got experience diversity. That's good,'' Essaibi-George said.
We asked Campbell and Essaibi-George to explain the issue they'll take up first, what being the "new blood'' of the council will mean, and how adding two women to the City Council will change its perspective.
Boston.com: How will your past experiences and work influence your decision-making?
Andrea Campbell:
There are transferrable skills that I bring, whether it's from Gov. Patrick's office, or working at a nonprofit, working with kids — different skill sets that I bring to the council. Drafting legislation — that was one of my main responsibilities for the governor, [and] reviewing the budget when it was budget time.
At least when it comes to my life experience, incarceration and the criminal justice system have played a big part. Both of my biological parents are deceased, so I've had tremendous loss. Losing my twin brother in the system. … I look forward to bringing those unique perspectives to the council.
Annissa Essaibi-George:
I've been a teacher for 13 years at East Boston High. With the city's budget, education is our biggest budget item. Being able to use my classroom experience when we're reviewing that budget, when we have hearings around that budget, when we talk about certain services we want to be providing in our schools — that classroom experience will have a very direct influence on those conversations and on that debate. It's very valuable as a city council to have someone with professional teaching experience in Boston.
I'm also a business owner of Stitch House in Dorchester for eight years so far. I have a great affection for small business districts in our neighborhoods. I really think that that's where our commerce is: in our neighborhood districts. We really need to make sure that our neighborhood business districts are thriving and that they continue to grow and continue to be successful.
Boston.com: What's one issue you plan to immediately take up as soon as you begin your term?
Andrea Campbell:
For me, it's the job itself. It's the constituent services. I heard from a lot of residents why they responded to this campaign was my accessibility — the fact that they could call or email and get a response within 24 to 48 hours. It's not lost on me that the primary job of a district city councilor is constituent services, so making sure we do the job itself very well. So going in and establishing relationships with the various agencies and departments to make sure that we actually deliver services to District 4 efficiently and effectively.
Annissa Essaibi-George:
I want to start having some very serious conversations about the start time of our schools. Studies have shown and documented for many years in order [for kids] to be good learners and to be ready to learn, they need their sleep. Adolescents have a different sleep cycle than adults and younger children. I'd really like to look at ways that we can push the start time of our high school a little bit later.
On the economic development side, I'd also like to discuss ways to create affordable commercial opportunities. The same way that we've created affordable housing opportunities in large developments, how do we create affordable commercial opportunities? Again, that's in an effort to support small business growth in the city of Boston.
Boston.com: Why do you think the voters chose you over an older, longtime councilman?
Andrea Campbell:
I think it's all about looking forward and mobilizing the next generation to get involved. Fresh ideas and a new perspective. One thing I heard on the doors quite a bit from residents — and this isn't my quote — was "new blood.'' So it really is about new ideas and a fresh perspective, so I'm excited to bring that to the council.
Annissa Essaibi-George:
First, I think that my experience and my credentials really connected to lots of different types of people. We talk a lot in this city about education. When you have a teacher running, I think that people pay closer attention to your story and to your message. I'm also a small business owner. We talk about economic development, we talk about job stabilization. You've got someone who's created jobs, who's built a business, knows the challenges of opening a business in the city of Boston, knows the challenges of growing a business in the city of Boston.
I'm also a parent of school-aged kids. I've got four kids in Boston Public Schools. Both the challenges and the great opportunity of raising a family in the city of Boston, and I think voters were connected to that. I'm a former civic association president, I am active in my community, and all of those things. I think voters saw different reasons to connect with me, and they appreciated this new perspective and new set of experiences that could enhance the work the City Council does.
Boston.com: What is an issue that, if you don't accomplish it in the next 2 years, you would consider your term to be a failure?
Andrea Campbell:
I think it's, one, constituent services. When you have residents who say, "I call the city and don't get a response,'' or "I've been calling about the same issue for the last three years,'' for me that's just quite disturbing. It's making sure that we start doing that part really well.
One big issue is schools. The quality of schools in this district are some of the worst in the city of Boston. So [I'm] really looking to build a relationship with the school leaders, and the teachers, and the administrations of the individual schools in District 4, and working with them as a district city councilor to meet their needs.
And then working with the city and BPS to develop plans to truly turn around some of these schools, so parents feel excited to send their kid to schools in the district.
Annissa Essaibi-George:
There's lots of ways to measure success and measure whether or not your term has been a failure. I'd say those two things [school start times and affordable commercial opportunities] in particular are very important to me. Those two would be great measurements on whether or not I've been successful at my job.
We've got to work on this crime issue. Halloween just passed, and there are neighborhoods in the city of Boston where families are not comfortable being out trick-or-treating with their kids. That's a safety issue, that's a quality of life issue, that's an equity issue. There's just so many things wrong with that that we've got to focus on in the city.
Boston.com: Your election bumps up the number of women on the council from two to four. Is that something you view as of importance? Or is that beside the point?
Andrea Campbell:
I think it's extremely important. There are numerous studies and data reports out there that talk about the lack of women in elected office. The fact that we now have four women on the City Council — I think many people in this city, and not just women of course, are excited by that. It's always important to look at our elected bodies and see if they represent the demographics of the city in which they serve. I'm excited that there are more women, and also just women that have various backgrounds and various perspectives on different issues.
Annissa Essaibi-George:
I think that's incredibly important. The city of Boston is 52 percent women. If only two women are on the City Council, it doesn't look like the city of Boston. And we've recognized in a number of different sectors – whether it's private business, whether it's schools, whatever it is — if there is a reflection of the city of Boston, that's better.
Each of us brings something a little bit different from each other, and that creates a great dynamic. It creates an incredible opportunity, and alongside the other returning council members, there's quite a bit of diversity. We've got racial diversity. We've got gender diversity. We've got experience diversity. That's good. That makes for a much more robust conversation, a much more thorough and detailed conversation. If you've got people coming from different perspectives, you've got a lot more to bring to the table.
(These interviews have been lightly edited for length and clarity.)
Gallery: Boston City Hall through the years
[bdc-gallery id="115232″]