Local
Hundreds of Smith College students walk out of class to protest racism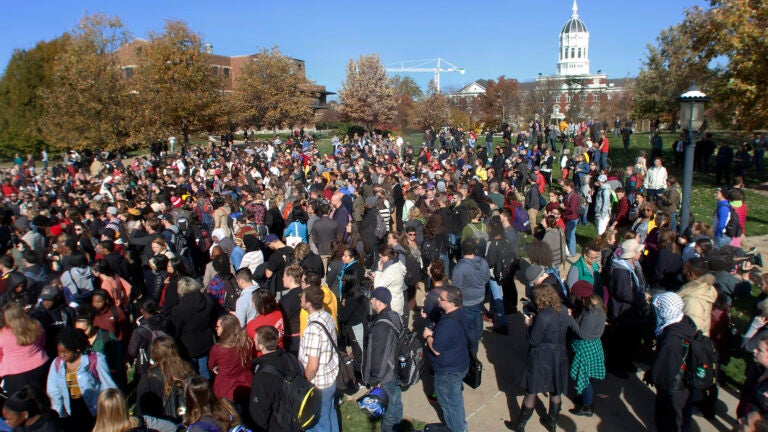 Students at Smith College, a private women's school in Northampton, walked out of class en masse Wednesday at noon in support of the injustices students of color face on college campuses nationwide.
Raven Fowlkes-Witten, a Smith student who organized the movement, said she was inspired by a similar walk-out planned for Ithaca College Wednesday to protest their president's handling of race issues on campus.
"I thought it would be great to have them happen on the same day,'' she said. "To show that we stand with Ithaca, but also to show that it's possible to gather students to speak out against injustices that are happening everywhere, and hopefully to inspire other students to do the same.''
About 200 people, including students, professors and the dean of the college, gathered in the middle of campus. Someone started chanting "who's not here'' to call attention to white students who don't carry the burden of racism, Fowlkes-Witten said. The chant was also meant for students of color who can't be at Smith because of institutional racism, she said.
Racial inequities on campus have become a national flashpoint after student protests at the University of Missouri and a boycott by the football team led to the resignation of the school's president and chancellor on Monday.
On Monday, more than 1,000 students took part in a "March of Resilience'' at Yale University after several racially charged incidents across Yale's campus, including allegations that a fraternity member told a young woman their party was for "white girls only,'' and a controversial email from a professor about Halloween costumes.
"I'm walking out today because I think it's important to show this isn't something that's happening on one campus, and it isn't a movement that can be stopped,'' said Anna George, a student at Smith. "And I know that racism does exist at Smith since it's predominantly a white campus.''
Kimberly Zhang, a sophomore at Smith, said racism occurs every day for people of color, which is why it's important to her to stand up and draw attention to the issue.
"It is so upsetting that even, today, we would have to deal with this sort of archaic behavior,'' she said. "Today, I'm standing with all my fellow students of color to tell the world that racism is still existent, everyday occurrence and it's not just something that media records on a loop.''
Fowlkes-Witten said she was pleased with the turnout and plans to keep speaking out. She is working on a solidarity agreement with students from other colleges that will pledge to advocate for more people of color in faculty and trustee positions.
"We need more voices, and we need to be united on this across college campuses,'' she said. "This is not a distant event.''