Local
Mistake led to Chism crime scene 'slaughterhouse' being cleaned
A cleaning supervisor washed away most of the blood left behind when 24-year-old math teacher Colleen Ritzer was brutally stabbed to death at Danvers High School.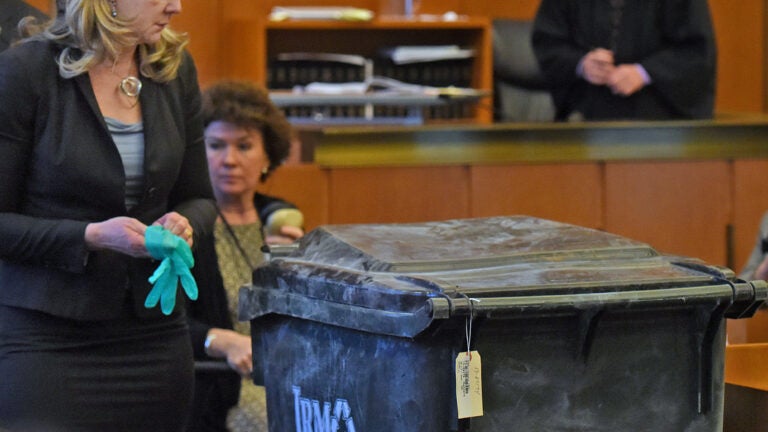 Drenched in blood, the second-floor girls' bathroom at Danvers High School looked like a "slaughterhouse,'' the cleaning supervisor later recalled.
Vinicio Pimentel went downstairs and told a school custodian in broken English what he had found.
"I find blood in the women's bathroom in the second floor,'' he said.
But the custodian heard "blue,'' not blood, and pictured spilled cleaner, not a crime scene. So he sent the cleaning supervisor off with a hose to wash away most of the blood left behind when 24-year-old math teacher Colleen Ritzer was brutally stabbed to death after school.
Testimony in 16-year-old Philip Chism's trial on murder, rape and robbery charges continued into a fourth day Thursday in Salem Superior Court. Chism was 14 when he was arrested and charged with killing Ritzer, his math teacher, in that second-floor bathroom.
Prosecutors say Chism slashed Ritzer's throat 16 times, raped her, and then dragged her body out to the woods behind the school in a recycling bin. He has pleaded not guilty to the crime.
Kelley King, a forensic scientist with the Massachusetts State Police, described on the stand how investigators searched the woods around 3 a.m. on October 23, 2013, hours after anyone had last seen the 24-year-old Ritzer. During the search, an official pointed out something poking through the leaves – a toe, its nail painted pink.
Near Ritzer's body were a pair of socks, gloves, pieces of paper and a backpack with Chism's identification sitting on top, King testified. Many were covered in what appeared to be blood.
On a piece of paper folded neatly near Ritzer's body were four words written in blue marker: "I hate you all.''
They called a paramedic, who cleared leaves from Ritzer's face, placed a stethoscope on her chest and pronounced her dead.
King and other investigators then went to work documenting what was left behind: a few blood spatters in the bathroom and drips of blood near the main entrance to the school's academic wing.
A diamond earring was found in a blood-filled floor cleaner that Pimentel had used to scrub and squeegee the floor in the bathroom.
On Wednesday, jurors watched surveillance video of Chism following Ritzer into the bathroom. He put gloves on, entered the bathroom and emerged 11 minutes later with a bloody hand before rushing out of the school.
Jurors heard about some of the interaction between Chism and Ritzer in the hour or so before the killing.
Autumn Ciani testified that she was hanging out in room 209, Ritzer's classroom, after school that Tuesday. She drew flowers and designs on the whiteboard while Chism and Ritzer talked.
She was trying not to listen, but heard Ritzer ask the new student where he was from, and if he missed home.
Chism seemed annoyed, Ciani said.
"Honestly, he didn't seem very happy,'' she said. "He didn't want to be there.''
Ritzer and Ciani started to leave and chatted just outside the door. The student told the teacher that she was a great person and teacher.
"She would probably make math really easy,'' she said.
She planned on coming back to hang out in Ritzer's classroom the next day. Minutes later, Ritzer would be dead.
Defense attorneys have said that Chism did all he's accused of, but was in the midst of a psychotic break when he killed Ritzer. Defense attorney Denise Regan said in her opening statement that it was that conversation between Ritzer and Chism about his hometown of Knoxville, Tennessee that made the teenager increasingly stressed.
Testimony is expected to last through December.