Local News
The marijuana legalization push in Mass. just got a little more clear
Two groups had proposed competing pro-legalization ballot questions.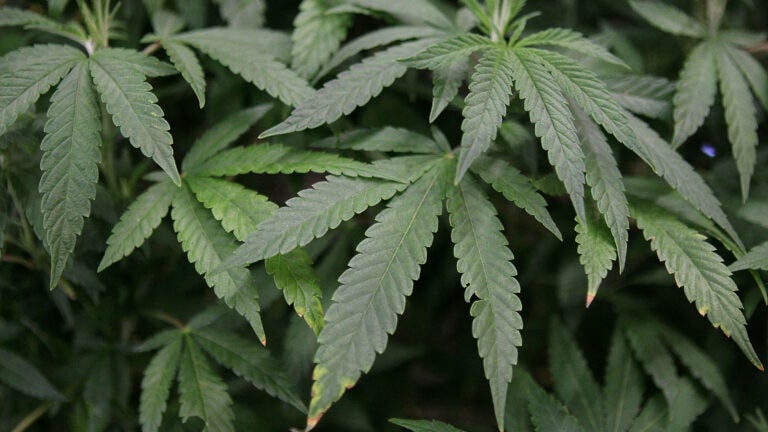 A possible 2016 decision about marijuana legalization in Massachusetts got less complicated this week.
Massachusetts voters had faced the prospect of answering two separate pro-legalization ballot questions next November. But only one group believes its question is still standing.
The Campaign to Regulate Marijuana Like Alcohol said Tuesday it had submitted enough signatures to the secretary of state to advance in the long process of getting a proposed law in front of voters.
"People can see that our current prohibition policy isn't working, and they're taking action to replace it with a more sensible system,'' CRMLA campaign manager Will Luzier said in a statement.
Meanwhile the leader of Bay State Repeal, the group behind a competing ballot question, conceded Wednesday night that it had not gathered enough signatures.
"We didn't make it,'' Bay State Repeal's Steve Epstein told Boston.com.
The two groups have pitched very different approaches to legalization.
CRMLA, backed by the national Marijuana Policy Project, proposes a tightly regulated system including a new state commission and an excise tax on pot sales.
Bay State Repeal, led by longtime local activists, sought what it called the least restrictive laws possible, such as allowing most existing retailers to sell marijuana and dividing light oversight of the industry between several existing state agencies.
The contrast between the groups spoke to a divide in national pot politics about how marijuana should be regulated as legalization becomes increasingly common. With only one question still standing, Massachusetts voters will not be thrown into the middle of the fight next fall.
But the rivalry will persist, in a form. On Wednesday Epstein said he would "use every skill in my power'' to oppose CRMLA's question, which he called a "bad law'' that supports "crony capitalism.'' (That marks a change in tune from earlier this fall, when Epstein said he "might hold my nose'' and vote for CRMLA if it were the only one to make the ballot.)
Other local pot advocates may respond differently. Bill Downing, chairman of the Massachusetts Cannabis Reform Coalition, which had backed Bay State Repeal, previously said the group would "absolutely'' support CRMLA's proposal if it were the only one to make the ballot. He confirmed Thursday that he now personally supports CRMLA, and said he expects MassCann to eventually vote to do so as an organization.
Other activists previously said they were worried that if both questions made the ballot they could split the vote, resulting in no legalization at all.
''Though our approach differs from [Bay State Repeal]'s, we hope that all who supported BSR will join with us to end the 100-year-long hypocrisy of punishing adults for choosing a substance that is less harmful than alcohol,'' CRMLA spokesman Jim Borghesani said in a statement Thursday.
Massachusetts voters decriminalized possession of small amounts of marijuana in 2008, and legalized medical marijuana in 2012.
CRMLA said it submitted more than the required 64,750 voter signatures to the secretary of state Tuesday.
If the signatures are deemed valid, the question will next go to the state legislature. If the legislature does not take it up by May, CRMLA will need to collect close to 11,000 more signatures to make the ballot for November.
Once it makes the ballot, CRMLA will face a different kind of opposition than it has seen from Bay State Repeal. Several elected officials, including Boston Mayor Marty Walsh and Gov. Charlie Baker, have said they are against legalization of any form.
Gallery: The 2016 Presidential candidates
[bdc-gallery id="140212″]