Local
Elizabeth Warren backs Hillary Clinton's op-ed on Wall Street reform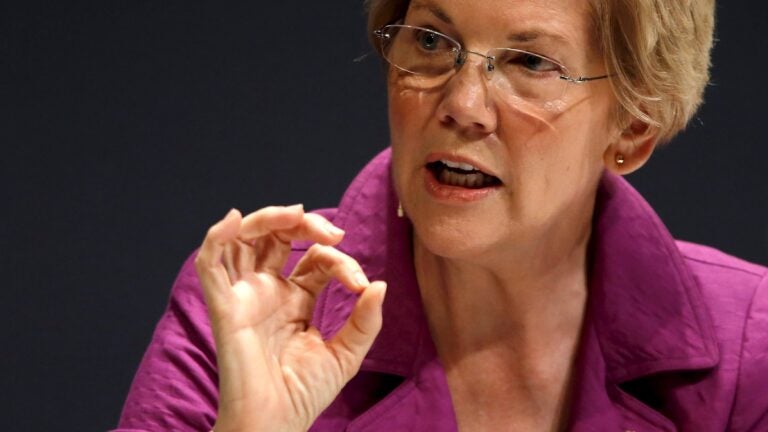 This weekend Sen. Elizabeth Warren, who has still not endorsed a presidential candidate, had general praise for Sen. Bernie Sanders and noted her historical split with Hillary Clinton over financial reform.
Well, Clinton wrote an op-ed Monday for The New York Times detailing her Wall Street plan — and the senior senator from Massachusetts approves. Or, at least endorses the idea that Democrats shouldn't allow Republicans to undermine recent reform efforts.
"Secretary Clinton is right to fight back against Republicans trying to sneak Wall Street giveaways into the must-pass government funding bill,'' Warren wrote Monday on Facebook, applauding Clinton's defense of the Consumer Financial Protection Bureau (which Warren helped establish):
Whether it's attacking the CFPB, undermining new rules to rein in unscrupulous retirement advisers, or rolling back any part of the hard-fought progress we've made on financial reform, she and I agree: "President Obama and congressional Democrats should do everything they can to stop these efforts.''
In Clinton's op-ed "How I'd Rein In Wall Street,'' the former secretary of state writes that she would impose a yearly risk fee on biggest banks to discourage "hazardous behavior that could induce another crisis;'' strengthen the Volcker rule, which restricts some speculative investments made by commercial banks; and strengthen the ability of agencies to independently regulate companies and penalize executives. The plan would also include a tax on high-frequency trading.
Clinton also noted in her op-ed how her Wall Street plan, first released in October, has gotten the backing of progressive Democrats, including former Massachusetts Rep. Barney Frank, who co-authored the financial reform law signed by President Barack Obama in 2010.
In Warren's post Monday, she did not mention Clinton's position on re-instating the Glass-Steagall Act, which was repealed by Bill Clinton in 1999. Warren has introduced a modernized version of the 1933 law mandating the separation of investment and commercial banks to ensure that firms cannot access customer deposits for "high-risk trading.''
Unlike Warren, as well as primary opponents Sanders and Martin O'Malley, Clinton does not support reinstating Glass-Steagall nor, it seems, any modernized version of the law. She explained why in her Times piece:
Some have urged the return of a Depression-era rule called Glass-Steagall, which separated traditional banking from investment banking. But many of the firms that contributed to the crash in 2008, like A.I.G. and Lehman Brothers, weren't traditional banks, so Glass-Steagall wouldn't have limited their reckless behavior. Nor would restoring Glass-Steagall help contain other parts of the "shadow banking'' sector, including certain activities of hedge funds, investment banks and other non-bank institutions. My plan would strengthen oversight of these activities, too — increasing leverage and liquidity requirements for broker-dealers and imposing strict margin requirements on the kinds of short-term borrowing that also played a major role in spurring the financial crisis.
Warren, the only female Democratic senator not to endorse Clinton, has said she will likely back a candidate in the Democratic primary. However, she told a Boston Herald reporter Friday, "It's just not time for me to do that yet.''
For what it's worth, Clinton's account "liked'' Warren's Facebook post Monday.