Local
BC Official: There's now more than 140 students likely sick with norovirus
The Boston Public Health Commission confirmed the presence of norovirus Wednesday after testing.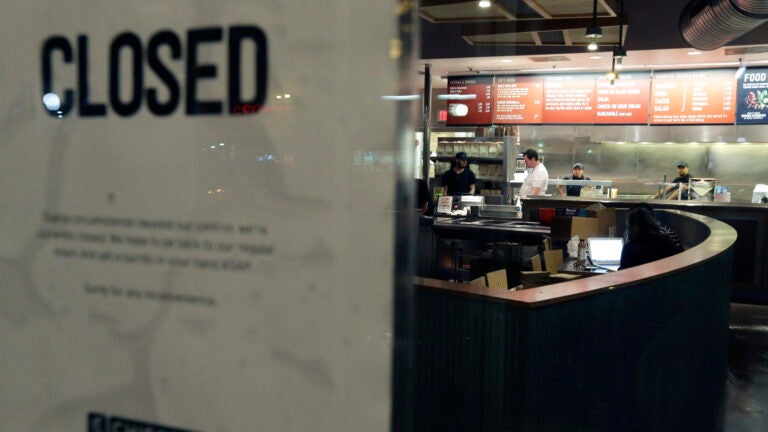 More than 140 Boston College students have taken ill after eating at the same Chipotle, according to a school spokesperson.
"As of today, a total of 141 BC students have reported to BC Health Services with norovirus symptoms after having eaten this past weekend at the Chipotle Restaurant in Cleveland Circle,'' Boston College spokesman Jack Dunn said in a statement on Thursday.
The Boston Public Health Commission said Wednesday that laboratory testing confirmed the presence of norovirus. According to a Thursday statement, the commission has been able to confirm 91 known cases from those who ate at Chipotle, including Boston College residents, students, and non-BC patrons. More became ill after having contact with those who ate at the restaurant.
Additional testing from the restaurant came back negative for bacteria pathogens, including E. Coli, the commission said Thursday.
People can get norovirus from an infected person, contaminated food or water, or by touching contaminated surfaces, according to the Centers for Disease Control and Prevention. The virus causes the stomach or intestines to become inflamed, leading to pains, nausea, vomiting, and diarrhea.
Dunn said all of the students have been tested for E. Coli and norovirus, though test results for E. Coli have not been returned yet.
"The remaining tests are expected to be returned tomorrow, but the clear expectation is that the illness on campus is limited to the norovirus,'' said Dunn in a statement.
In response to the test results, Boston College issued an email to students with tips about self-care for the infected, as well as a response plan the university has taken. Dunn said facilities staff have redoubled their efforts to clean all common-touch surfaces in public spaces, including restrooms and dining halls, as well as academic and administrative offices, residence halls, and athletic facilities.
He also said the university closed self-service areas, such as salad bars, in the dining halls as of noon Wednesday. The dining halls will also offer "flu buddy packs'' that students can purchase for their sick friends.
City inspectors closed the Chipotle, located in Brighton near BC's campus, "until further notice'' after reporting three critical health violations following a visit Monday. The restaurant was still closed Thursday afternoon.
According to the Inspection Services Department, an employee came to work sick last Thursday and chicken and steak on the service line were being held at 128 degrees F and 124 degrees F, respectively — below the required temperature range of at least 140 degrees F.
The third violation was of multiple reports of foodborne illness from the location. All three citations were given the department's most serious grade of violation.
Chipotle spokesman Chris Arnold told the Associated Press on Tuesday that "all of the evidence'' points toward norovirus, but could not say for sure that was the case.
Che Knight, director of communications for the Boston Public Health Commission, previously told Boston.com the food was being tested and interviews will be conducted with each student who became ill.
"It's an ongoing investigation and we're doing the best we can to get to the bottom of it,'' said Knight.
Chipotle had temporarily closed the restaurant Monday after Boston College said several students, including members of the men's basketball team, developed gastrointestinal symptoms after eating there.
The FDA has been investigating a national E.Coli outbreak linked to Chipotle, finding the bacteria in Chipotle restaurants across nine states. As of Friday, 52 people had been infected nationwide but Chipotle told Boston.com on Monday that there were no confirmed cases of E.Coli connected to a Chipotle in Massachusetts.