Local News
Donald Trump says Tom Brady is the key to his Massachusetts success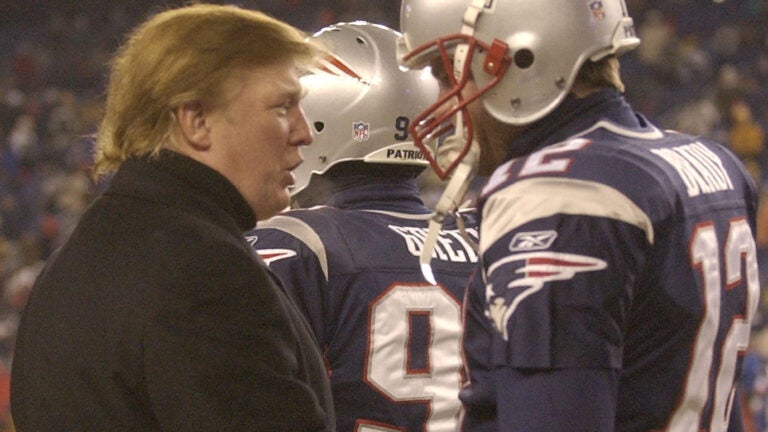 Donald Trump has a theory that he says explains why he's leading the presidential Republican field in Massachusetts: Tom Brady.
Amid a winding conversation with The Washington Post last week, Trump boasted that his "whole life is about winning,'' he said.
"Tom Brady says you never lose,'' Trump spokesperson Hope Hicks added.
"In Massachusetts, I'm at 48 percent,'' Trump said. "You know why? Tom Brady said Trump's the greatest. He says it to anyone who asks him.''
Back in October, Trump received 48 percent of the vote among likely Republican primary voters in Massachusetts in an Emerson College Polling Society.
However, a more recent poll, from UMass Amherst in November, found Trump with 31 percent of the vote among likely primary voters. Similarly, a Suffolk University poll two weeks ago found Trump with 32 percent support in the Bay State. Both were still good for first place among GOP contenders.
In any case, Trump emphasized the importance of Brady's support.
"You know, it's hard for a guy like him to say that,'' Trump continued. "When you're a football player, you don't want to be taking sides in campaigns and having the Hillary [Clinton] people now say you're not as good as Bart Starr. You understand. So Tom Brady is great.''
At least publicly, Brady has expressed some support for Trump, his sometimes golfing buddy. In September, reporters spotted a Trump campaign "Make America Great Hat'' in Brady's locker room. The star Patriots quarterback made headlines by saying "it would be great'' if Trump became president.
[fragment number=0]
Trump considered that an endorsement.
"Tom Brady just came out and endorsed me, and Tom Brady had another fantastic game, a total winner,'' Trump said after the Patriots early-season win over the Bills.
Brady later backtracked on his support for Trump, and said it was an "offhanded comment'' that was taken out of context. He declined to officially endorse Trump but did not to say he if he supported someone else.
"I mean, look, I've known him for a long time,'' Brady said. "He's been a fun guy that I've had a lot of time around.''
Gallery: Tom Brady's career timeline
[bdc-gallery id="117672″]