Local
No, Ted Kennedy wasn't on the no-fly list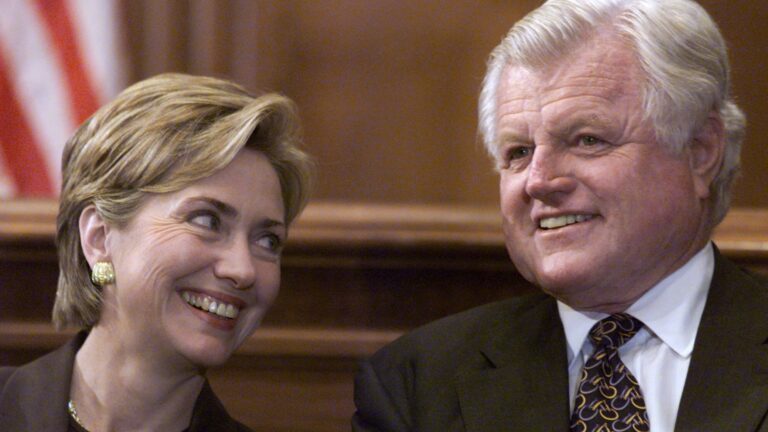 Following last week's shootings in San Bernardino, California, a new push was made by leading Democrats to reform the country's gun laws.
Campaigning in New Hampshire, Hillary Clinton blasted Republicans in the Senate for voting against a bill that would ban people on the no-fly list for suspected terrorists from buying guns.
[fragment number=0]
"If you are too dangerous to fly in America, you are too dangerous to buy a gun in America,'' Clinton said.
President Barack Obama echoed those sentiments in his Sunday night Oval Office address.
"Congress should act to make sure no one on a no-fly list is able to buy a gun,'' he said. "What could possibly be the argument for allowing a terrorist suspect to buy a semi-automatic weapon?''
In their response, Republicans aligned themselves against the George W. Bush-era policy, echoing a no-fly list critique long trumpeted by many Democrats, as well as the American Civil Liberties Union.
"The majority of people on the no-fly list are often times people that basically just have the same name as somebody else who don't belong on the no-fly list,'' said GOP presidential candidate and Florida Sen. Marco Rubio on CNN's "State of the Union'' on Sunday.
"Ted Kennedy once said he was on a no- fly list,'' Rubio added. "I mean, there are — I — we — there are journalists on the no-fly list. There are others involved in the no-fly list that wind up there.''
Wait, the late Massachusetts Sen. Ted Kennedy was on the no-fly list — a list for suspected terrorists?
Jeb Bush seems to think so too, speaking Sunday on ABC's "This Week.''
"I mean, Ted Kennedy and Stephen Hayes the journalist and Cat Stevens. I mean, this is not a list that you can be certain of,'' the former Florida governor said.
The two Republican presidential candidates are partly-right and partly-wrong in their statements.
First, the assertion that Kennedy was on the no-fly list:
In a 2004 Senate hearing, Kennedy, arguing against the ambiguities of the no-fly list, explained the situation.
[fragment number=1]
Factcheck.org transcribed most of Kennedy's remarks here:
I got on the watch list last April. I was taking a plane to Boston and I get out to the USAIR and I come up to the counter and I said I want my ticket.

They said we can't give it to you. I say, well, wait a minute, here is a Visa. There must have been a mix-up. And the person behind the gate said, "I can't sell it to you. You can't buy a ticket to go on the airline to Boston.'' I said well, why not. We just — we can't tell you. Well, I said, let me talk to the supervisor on that. This is at five of seven. The plane is about to leave and finally, the supervisor said okay.

And I thought it was a mix-up in my office, which it wasn't. And I got to Boston and said there's been a mix-up on this thing to Boston. What in the world has ever happened? Is this what happened? Tried to get on the plane back to Washington. You can't get on the plane. I went up to the desk. I said I've been getting on this plane, you know, for 42 years and why can't I get on the plane back to Boston — back to Washington. And they said you can't get on the plane back to Washington.

So my administrative assistant talked to the Department of Homeland Security and they said there's some mistake. It happened three more times and finally Secretary Ridge called to apologize on it. It happened even after he called to apologize because they couldn't — my name was on the list at the airports and with the airlines and the Homeland Security. He couldn't get my name off the list for a period of weeks.

Now, if they had that kind of difficulty for a member of Congress, they'd have it — my office has a number of instances where we've had the leader of a distinguished medical school in New England and the list goes on. How in the world are average Americans who are going to get caught up in this kind of thing, how are they going to be able to get treated fairly and not have their rights abused?
According to a Washington Post article at the time, Kennedy was repeatedly stopped because his name matched an alias, "T. Kennedy,'' used by a suspected terrorist.
Kennedy, however, was never actually on the no-fly list, but a secondary "selectee list.'' According to the Department of Homeland Security, individuals on the selectee list "must undergo additional security screening'' before boarding their flight. Those on the no-fly list cannot obtain a boarding pass.
However, splitting hairs between which terrorist watch list was flagging Kennedy belies critics' larger point that these lists obstruct the civil liberties of many individuals with no terrorist association.
According to leaked documents obtained by The Intercept in 2014, the no-fly list has swelled to 47,000 people, and out of the 680,000 names included in a consolidated database of suspected terrorists, 280,000 have "no recognized terrorist group affiliation.''
Now, as The Atlantic recently wrote, that some Democrats are attempting to use the no-fly list in efforts of gun control, the politics of the issue been "inverted,'' with Republicans criticizing the Bush-era policy.
The opposite is true for The New York Times editorial board, which criticized "Terror Watch Lists Run Amok'' in 2014, only to call out Republicans last week for essentially voice the exact same criticism — even if it was motivated by different forces.
"I think it's very important to remember people have due process rights in this country,'' House Speaker Paul Ryan said last week. "And we can't have some government official just arbitrarily put them on a list.''
Ryan and other Republicans joined perhaps the most consistent critic of the no-fly list, the ACLU, which says the list obstructs individuals' civil liberties, presuming guilt over innocence.
"We disagree with Speaker Ryan about many things,'' wrote Hina Shamsi, ACLU's National Security Project Director. "But he's right that people in this country have due process rights. We want to see them respected.''
In an interview Thursday with the Post, Rep. Mike Thompson, a California Democrat, defended the current legislation to block those on the no-fly list from buying guns.
"If there's a chance of you being a terrorist that's pretty compelling,'' Thompson said, adding that the bill included an appeals process for those not supposed to be on the list.
One can only imagine what the late Kennedy, as staunch a supporter of gun control as he was a critic of the no-fly list, would say if he were here.