Local News
'Tis the season for Bostonians to buy toy T trains
The MBTA gets a small financial boost during the holidays thanks to its online gift shop.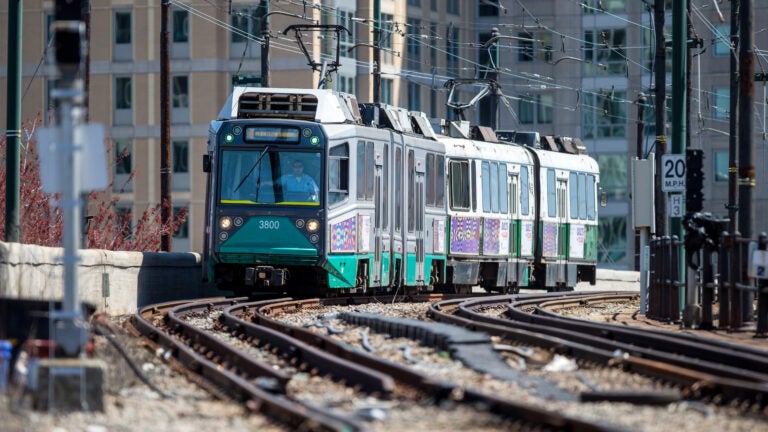 Winter isn't the most wonderful time of the year for the MBTA, but the holiday season treats it pretty well—at least in one regard. The T's online gift shop, MBTAgifts, made 40 percent of its 2014 revenue in November and December, and is expected to do the same this year.
MBTAgifts is projected in 2015 to tally $234,402, and the T will get about 13 percent of that, according to MBTA spokesman Joe Pesaturo. That's chump change for the financially troubled MBTA, but it's essentially free money because the T doesn't cover production and inventory costs.
Instead, that's handled by Cambridge gift shop WardMaps, which owns MBTAgifts. MBTAgifts provides a cut of each sale to the MBTA through a licensing agreement.
T aficionados can also buy the merch at the brick and mortar WardMaps store, which sells antique maps in addition to vintage transit memorabilia.
Some of this year's popular new gifts include salt-and-pepper shakers modeled after Red and Green Line cars, a children's sweatshirt with a train on it and a bus-shaped piggy bank, Pesaturo said.
If you're looking for a last-minute gift for the public transit wonk in your life – or a Boston ex-pat for whom absence from the T might make the heart grow fonder – here are some ideas from last year's top sellers:
Wooden trains: A wooden commuter rail train ($30) is the gift shop's top-grossing individual item during the holidays, while Green ($15), Red ($12), Orange ($12) and Blue Line ($12) models also sell well. Overall, the wooden trains accounted for five of last November and December's 10 best-selling items, with more than 1,800 selling between the different models.
Ornaments: The gift shop sells $20 ornaments in the style of buses and subway cars. (Last year MBTAgifts sold 450 of them.) A Green Line-styled ornament topped the sales chart last year, with the Red Line in second place.
Magnets: Magnets are the top sellers both year-round and during the holidays, with 1,700 sold last holiday season. (Priced at $3.50, magnets are not the top sellers by revenue.) A magnet showing the MBTA's rapid transit map is the most popular, but one depicting Kenmore Square's Green Line sign is a close second.
Vintage decommissioned MBTA signs are also a popular item year-round, but they are more likely to be sold as personal keepsakes rather than as gifts, said WardMaps co-owner Steven Beaucher.