Local
5 takeaways from Gov. Charlie Baker's end-of-year interviews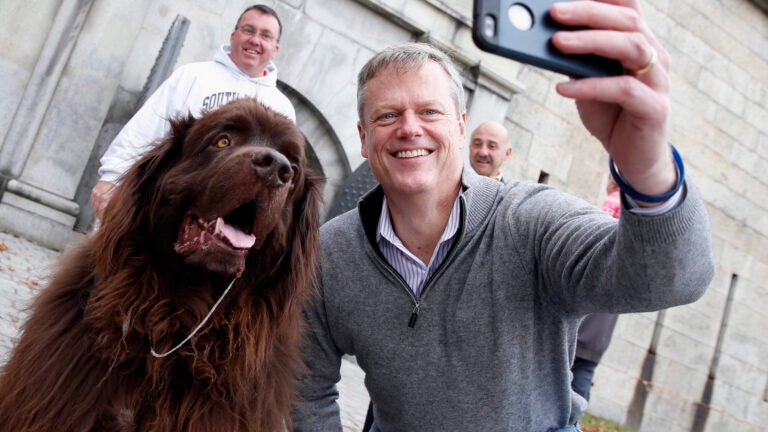 Gov. Charlie Baker finishes his first year in office with hand firmly on the tiller of the state and his statewide approval ratings through the roof. The even-keeled Massachusetts governor has been making the media circuit ahead of 2016, taking a look back at where he's been and a peek forward at where he'll go.
Here are some key takeaways from those interviews, including his MBTA conundrum and opportunity, his almost total aversion to national politics, and his expectations of the unexpected.
Baker won't promise big, unachievable goals
Baker's major plans for next year, he told MassLive, include passing legislation that deals with the state's opioid crisis, expanding the number of charter schools, and pass a bill focusing on hydroelectric power.
Those are fairly specific goals with achievable paths to success, rather than longingly hoped-for promises. Keeping his goals clear and obtainable is key, Baker told the Boston Herald.
"The thing I would say is governments have the tendency to over-promise and under-perform,'' Baker said. "So the over-promise part ends up sounding very aspirational. But it's the performance part that ultimately people feel every day and read about. And my goal is to make sure, whatever it is we aspire to, that we deliver on.''
Live by the T, die by the T
Baker's first year was largely defined by his handling of the MBTA's brutal winter, when the feet upon feet of snow turned the already troubled transportation agency into a pressing crisis.
The governor was both proud and regretful of how he handled the MBTA, he told MassLive.
"Once we did get involved, I think we made a lot of progress on dealing with the issues around the weather and the snow and the breakdowns and all the rest, but I wish I'd gotten involved in that sooner,'' Baker said.
In an interview with Politico Massachusetts, Baker was asked if he'd commit to running for a second term. He said that partly depended on the MBTA.
"I ran for this job because there were things I really wanted to do and I would only run again if there were still a lot of things I would really want to do,'' Baker said. "Things like fixing the T. Hopefully when we get to the end of my first term you and I won't be talking about fixing the T.''
Baker is staying out of national politics
Even with a presidential election upcoming, Baker has largely refused to comment on the goings-on of the candidates or say who he's planning to support.
"It seems to me like we haven't had a caucus or a primary, yet, and [we have] a long way to go,'' he told The Boston Globe. "And I like what some of the candidates have to say, and I don't like what some of the candidates have to say, and we'll see where it goes.''
He did offer impassioned criticism of Donald Trump's proposed plan to temporarily halt Muslim immigration, but has otherwise kept mum on the primary races.
"I'm not getting paid to speculate on presidential politics,'' Baker told Politico Massachusetts.
Expect the unexpected
In a year in which hot topics ranged from the MBTA's wintry failures to the debate over accepting Syrian refugees, Baker's biggest lesson learned was to be wary of unforeseen events, he said.
"You just can't get surprised when you get surprised, because weird stuff just comes over the transom all the time, and it's not necessarily anything that you've planned for or anticipated,'' Baker told MassLive.
In an interview with WGBH Boston Public Radio, Baker added that new issues constantly come "whistling in from left field,'' according to State House News.
"There's a lot more of that than I think I realized,'' he said. "And that could just be because when I worked for Bill Weld and Paul Cellucci, I was only worrying about the stuff I was worrying about. I didn't have to worry about everything.''
Baker's popularity
Baker said his problem-solving approach has won him a 74 percent approval rating among Massachusetts residents—the highest for any current governor, according to a November poll from Morning Consult.
In an interview with the Globe, he said this all started after the MBTA's snow-induced crisis.
"I would run into people, when I would just be out talking, who would say, 'I'm a Democrat, I didn't vote for you, but I think you're doing a really good job,''' he said.
Baker said his approach to most issues contrasts with most politics nowadays.
"I think people are kind of tired of the really amped-up rhetoric that passes for a lot of political dialogue, and they appreciate the fact that that's not the way we are participating in this process,'' Baker said.
Gallery: 100 years of Massachusetts governors
[bdc-gallery id="145180″]