Local
Mike Dukakis still wants Gov. Charlie Baker to ride the MBTA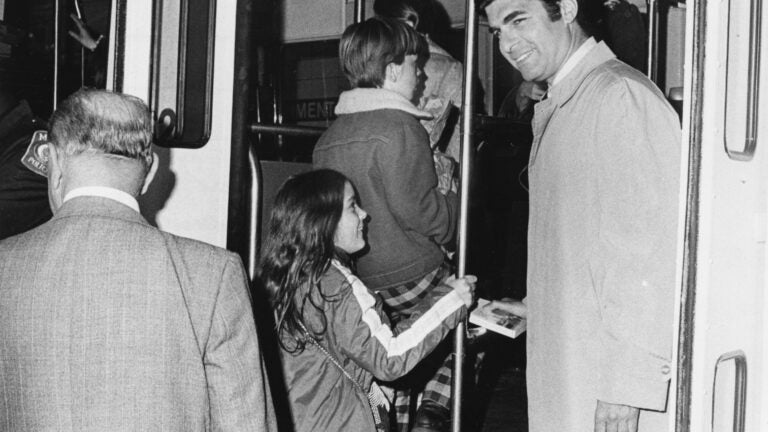 Former Gov. Michael Dukakis reiterated his call for current Gov. Charlie Baker to ride the MBTA daily into work in a conversation with the Boston Herald.
As a governor, Dukakis was fond of taking the Green Line every day – he still does, actually – and he says his constant ridership helped him understand the problems of the transit agency. He encouraged Baker to use that same tactic.
"There was nothing hokey about it. I've been riding the T since I was 5. But it doesn't hurt to have a chief executive who's on it,'' Dukakis told the Herald. "I learned more about the T and my own administration riding the T than I did in the State House.''
It's a familiar request from Dukakis, the self-described "rail romantic.'' Back in February, amid the MBTA's disastrous winter, he told The Boston Globe's Shirley Leung that MBTA employees "knew me, saw me. It makes a difference.''
Dukakis also relayed a story about how an MBTA employee's complaints about a faulty piece of equipment called a "pan'' wasn't being replaced.
"So I get to the State House and call [then-transportation secretary] Fred Salvucci,'' Dukakis told the Herald. "And I said, 'Fred, I have it on good authority that they're not replacing the pans.' He said, 'That couldn't be. I'll call you back.' … He called back and said, 'The guy's right.'''
Baker used to ride the Red Line when he attended Harvard and took the Commuter Rail in the early '90s. He now commutes from his home in Swampscott into work via car, though he has ridden the T on occasion.
In a February interview with WGBH, Baker dismissed a symbolic ride on the T as "not honest.''
Baker's strategy in dealing with the MBTA has been more managerial than Dukakis's hands-on ideas. For example, Baker approved $83.7 million in a winter preparation plan and appointed a Fiscal and Management Control Board to deal with its finances.
Gallery: 100 years of Massachusetts governors
[bdc-gallery id="145180″]