Local News
Here's Aaron Hernandez's full 'Lifetime Loyalty' neck tattoo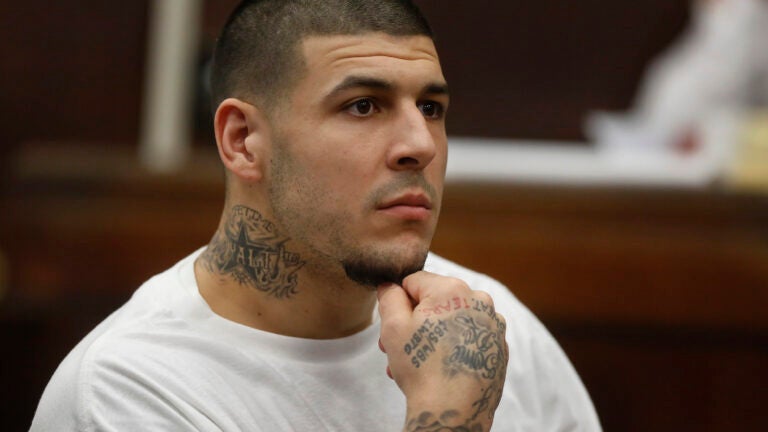 When Aaron Hernandez appeared in court in May after being convicted of murder, the former Patriots star tight end sported a new neck tattoo that partially read "Lifetime.'' But the bottom half of the tattoo was obscured by a suit collar.
On Tuesday, Hernandez appeared in Suffolk County court for a pre-trial hearing on a separate double murder trial. Wearing a white T-shirt, Hernandez finally showed off the full ink.
"Lifetime Loyalty,'' reads the tattoo, set on top of a five-pointed star. A hand in the hang-loose gesture makes up the "Y'' at the end of "loyalty.''
The five-pointed star has sometimes been affiliated with the Bloods gang, according to one law enforcement intelligence report on gangs.
Hernandez was convicted in April for the murder of 26-year-old Odin Lloyd, who was dating the sister of Hernandez's fiancée. Prosecutors said Hernandez and two co-defendants drove Lloyd to a nearby secluded industrial park in North Attleboro, and then shot and killed him.
He was sentenced to life in prison without the possibility of parole.
During the trial, he did not appear to have a tattoo on his neck.
Hernandez still faces double murder and witness intimidation charges in Suffolk County court. Prosecutors say he shot and killed two Dorchester residents in a drive-by shooting in July 2012.
The trial for those murders has been postponed. Hernandez's next court appearance in that case is scheduled for January 19 for a status hearing.
Gallery: The Aaron Hernandez trial, in photos
[bdc-gallery id="316750″]