Local
The U.S. Army wants you—to eat MREs for 3 weeks
The U.S. Army Institute of Environmental Medicine in Natick is conducting a study on how ''Meals, ready-to-eat'' affect gut health.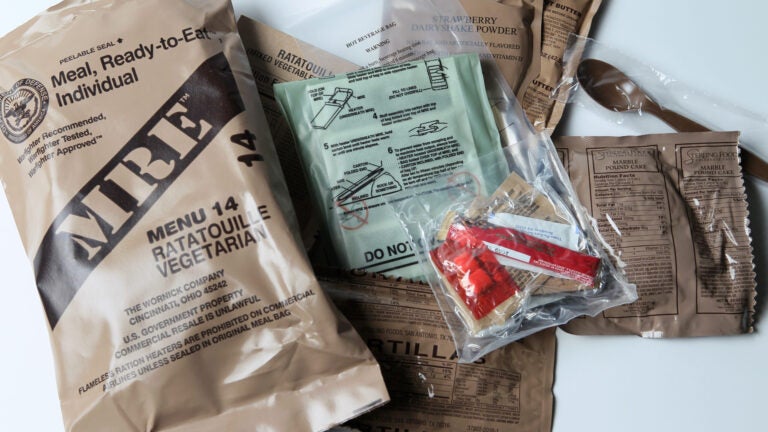 If you don't like to cook, the U.S. Army has a proposition for you: subsist on military food rations as part of a U.S. Army Institute of Environmental Medicine study.
The institute, located in Natick, is looking for volunteers to eat "Meals, Ready-to-Eat,'' or MREs, for 21 consecutive days as part of a study on how MREs affect gut health.
"Interactions between the millions of bacteria living in our gut and what we eat is a very important factor in gut health, but we don't know how MRE foods interact with those bacteria to impact gut health,'' Holly McClung, a research dietitian working on the project, said on the Army's website. "Ultimately, discovering how eating MREs influences gut bacteria and gut health will help our efforts to continually improve the MRE.''
Researchers hope to determine what nutritional elements may be lacking in the current MRE menu so they can inprove the meals.
"We think we can manipulate the bacteria in a way that helps the bacteria fight foreign pathogens — things that could cause food-borne illness, for example,'' study head Dr. J. Philip Karl told Army Times. "Oftentimes, war fighters are overseas and they eat something off the local economy that can cause [gastrointestinal] distress. Potentially, what we could do by increasing the amount of beneficial gut bacteria is to help prevent some of that.''
Each MRE provides an average of 1,250 calories and one-third of the Military recommended daily allowance of vitamins and minerals, according to the Army. A full day's worth of meals includes three MREs.
Though they truly are a meal ready to eat, the Army advises that they taste better when heated—a supplied ration heater comes with each meal. One example of an MRE includes: "chicken fajita tortilla; chocolate pudding; baked snack cracker, cheese; cheese spread; coffee, irish cream; seasoning blend; spoon; flameless heater; and hot beverage bag.''
MREs are capable of withstanding parachute drops from 1,250 feet and have a shelf life of three and a half years if kept at 80 degrees (or nine months at 100 degrees).
Some participants will be placed in a control group and eat their normal diet. The study will last six weeks in total and requires four separate visits to the Natick lab along with blood, urine, and fecal samples.
To make MREs more enticing, Army dieticians recently created "MRE Recipes,'' a cookbook to bring "a creative twist to your MRE experience.'' Ideas include "Mountaineer Mousse Dip'' (made by mixing a pudding pouch, dairy shake, and water) or "Battlefield Beef Dip'' (ingredients unclear).