Local
Famous runaway goat finds home in Massachusetts sanctuary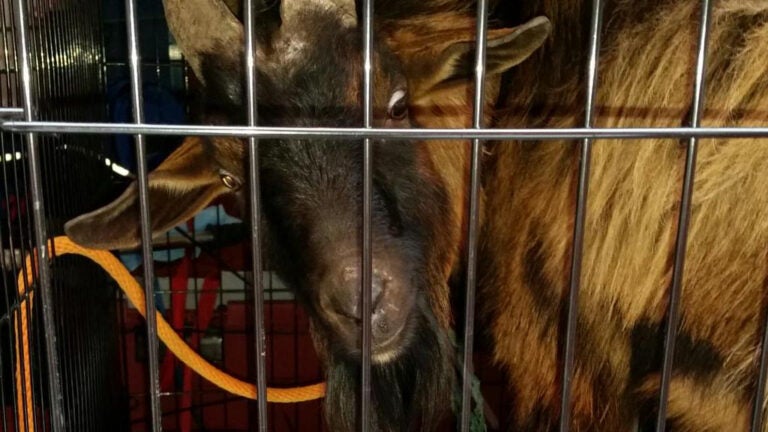 LOWELL, Mass. (AP) — Last year, a frightened goat escaped his fate as someone's dinner and achieved Internet stardom.
Now, the famed ''Lowell Goat'' lives a comfortable, idyllic life on a farm in Central Massachusetts, where he's free to play and roam with his goat friends.
''At first he was very afraid, very traumatized, but very quickly, he got very calm,'' said Helen Rayshick, founder and caretaker of Sunny Meadow Sanctuary in Holden. ''It was almost like he said, 'Oh my gosh, I'm home.' ''
On Dec. 26, 2014, Lowell police responded to a report of a stray goat wandering in the area of Newhall Street. Later in the evening, the goat's owner, Tewksbury resident and farmer Dennis Oliveria, reported the animal missing.
It turned out the goat was destined for slaughter. Perhaps he knew his days were numbered, because the goat, who quickly earned the moniker ''the Lowell Goat,'' was on the run for weeks. Over the next month, goat spottings poured in from around Lowell and the surrounding towns. He garnered media attention from around Massachusetts and beyond, even a fan Twitter account, @TheLowellGoat.
On Jan. 27, the goat finally surrendered to authorities in Westford. During his time on the lam, multiple animal sanctuaries offered to take him in when he was apprehended, but Sunny Meadow earned the honor of being the Lowell Goat's forever home.
''We're a Massachusetts sanctuary, so we really wanted him to stay in Massachusetts,'' said Rayshick.
She said her organization had worked with the Massachusetts Society for the Prevention of Cruelty to Animals in the past, and they felt their facility would be a good home for the goat. ''It was a natural fit.''
The name ''Lowell Goat'' was a bit clunky, Rayshick admitted, so her staff decided to give him a new one. They settled on one that summed up the goat's indomitable spirit: Braveheart.
''This goat has such a brave heart,'' Rayshick recalled thinking when he came to live at Sunny Meadow. ''We all looked at each other, here at the sanctuary, and said, 'That's his first name— Braveheart. That's a perfect name for him.' ''
Rayshick said Braveheart is about 3 years old now, but she and her staff thought he was much older when he arrived, based on his ''skin and bones'' appearance. But with love, care and good nutrition, Braveheart has put weight back on, has a shiny coat, and is in good health.
''It was like the years dropped off him,'' she said. ''We couldn't believe it. It was amazing.''
Many of Braveheart's fans have reached out to Sunny Meadow since he came to live there to see how he's doing, Rayshick said, and some have even come to visit him.
''I think if people knew that farm animals have unique personalities … they would have a whole different take on them,'' she said. ''Braveheart's epic story proves that farm animals are very brave and resourceful.''
Post his 15 minutes of fame, Braveheart spends his days frolicking with the 50-plus other animals who live at the sanctuary— in particular, his best friend Chloe, also a goat.
And he'll never have to run for his life again.
''He's got a safe, happy home for all his days,'' Rayshick said. ''He's got a brave heart and he carried on.''
___
Information from: The (Lowell, Mass.) Sun, http://www.lowellsun.com