Local
Competency of babysitter accused of kidnapping toddler still in question
Abigail Hanna has been held under evaluation since Nov. 23, after she was charged with kidnapping and assaulting a 2-year-old who was found naked on the side of the road.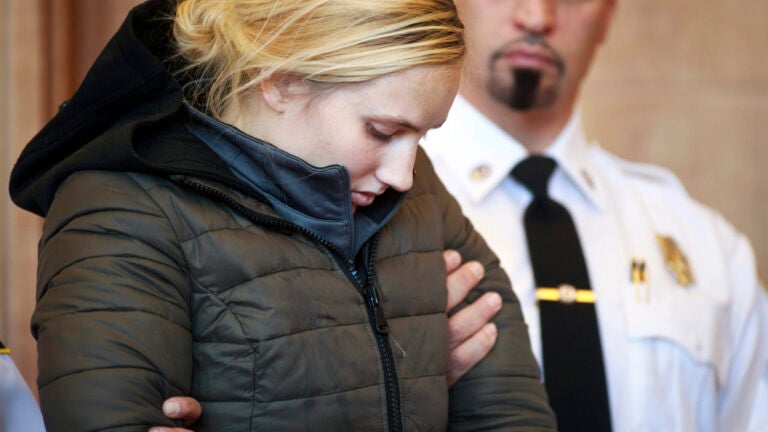 The 21-year-old babysitter accused of kidnapping and assaulting a toddler and abandoning the naked child on the side of the road will remain under hospital evaluation in an attempt to determine whether she's competent to stand trial.
Abigail Hanna has been at the Worcester Recovery Center under evaluation since she entered a not guilty plea at a Nov. 23 hearing. She will remain there until at least Jan. 22, a judge ruled Monday.
Hanna was brought to Newburyport District Court and spoke to court psychologist Dr. Tammy Howe, who told the judge that Hanna spoke "almost in a whisper,'' and said she reported experiencing auditory hallucinations. Hanna didn't appear in the courtroom, though her parents and several other supporters attended the short hearing.
Howe recommended another 20 days at the hospital, saying that Hanna wasn't currently able to understand the charges against her.
Hanna is charged with kidnapping of a child, breaking and entering, assault and battery on a child with injury and assault and battery with a dangerous weapon.
The judge will decide, after receiving the evaluation of Hanna, whether she is competent to stand trial. If she is not, the proceedings against her would be on hold indefinitely.
Hanna has been held since Nov. 21, a day after the toddler went missing from her home. The girl was found hours later, naked, with a shaved head and a head injury,by a couple driving down the road in Rowley, eight miles from her home. She had cigarette burns on her body.
Hanna had been the girl's babysitter but was fired, the child's parents told investigators, according to a search warrant affidavit.
The girl's frantic father called Hamilton police around 7 a.m. on Nov. 20. According to a recording included with a search warrant, the girl's mother had last seen her at 3 a.m. when she'd woken up during the night.
At 6:30 a.m., when the couple awoke and couldn't find their daughter, they combed the house looking for her.
"We woke up this morning and our 2-year-old daughter is not in the house and we cannot find her,'' the father said in the recording.
While the search for the toddler continued, investigators tried to reach Hanna. She alternatively told troopers she was babysitting in Boxford, then stopped answering the phone, and then said that her phone was dying.
She was eventually questioned at her home in Topsfield and told investigators varying stories, according to the affidavit. She said first that she went to get coffee, then that she just went for a drive. She denied knowing the missing toddler's family, then acknowledged she did. After more questioning, she told them she went to a pond to smoke marijuana and was afraid of getting in trouble, which was why she kept changing her story.
While officers asked about visible dirt on her hands and twigs in her hair, Hanna told them she had tried to catch a stray cat.
Hanna was erratic, investigators wrote, bursting into tears. She told them she had anxiety.
Hours later, as Hanna headed out to meet her attorney, investigators said they caught her trying to leave her home with bags with children's clothing — including a dirt-covered pink jacket in a toddler's size.
The next day, she was arrested and charged with the girl's kidnapping.
Almost three weeks after the first search of Hanna's Topsfield home, investigators returned after new questions were raised by Anne Daniels, a tenant of the Hanna family, according to a new search warrant affidavit.
In an interview with investigators on Dec. 3, Daniels said that she'd seen Hanna's parents and two other people removing items from the house's garage. She also saw Hanna's father walking up and down the driveway with a flashlight.
Investigators went back to the house to search for evidence, including a white blanket taken from the toddler's house and any blonde hair that had been cut off her head. The search turned up nothing, according to the search warrant filed Dec. 10.
Daniels had previously told investigators that Hanna had a miscarriage a month before the alleged abduction.