Local
Meet Epic, Newburyport's first four-legged police officer
The German shepherd completed 600 hours of K-9 training in Jamaica Plain.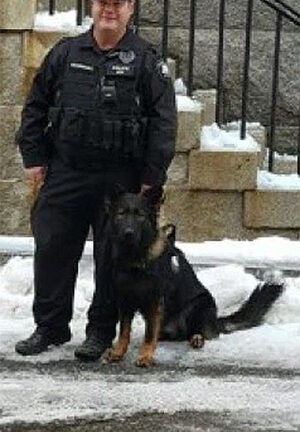 The Newburyport Police Department's newest officer is a German shepherd named Epic.
Epic, a 2-year-old dog from Kingston, N.H., is living up to his name by making Newburyport history as the first dog to graduate from the city's first K-9 program.
"We are very excited about this program,'' said Mark Murray, Newburyport's acting city marshal, in a statement. "Officer Marshall and Epic make a great team and I know they will serve our community well.''
Epic trained with K-9 officer Eric Marshall for 600 hours this past fall at the Boston Police K-9 Academy in Jamaica Plain. The pair received training in tracking, obedience, searches and aggression.
The K-9 program is funded by a $25,000 grant from the Stanton Foundation.
Epic officially began patrols Dec. 28.
Boston-area kennels that pamper pets:
[bdc-gallery id="116400″]