Local
Watch a New Hampshire soldier surprise his six-year-old son with an early return home
So lovely.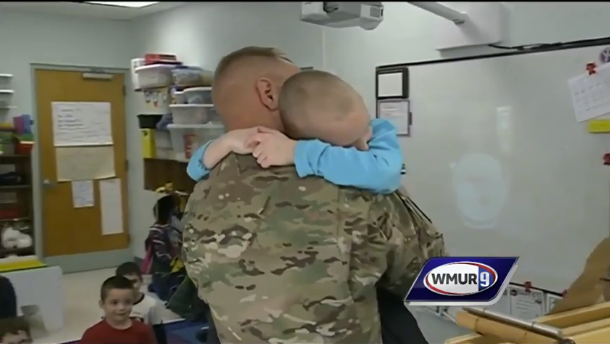 A New Hampshire six-year-old got a sweet surprise in the middle of his Pembroke Village School class when his dad, a National Guardsman who's been away on deployment, came home early.
Declan Osborne, a first grader, thought he had "seven more wakeups'' before he would get to see his dad, Staff Sergeant Dana Osborne, WMUR reported.
Declan's teacher gathered her class and told them a special guest reader was visiting. When Osborne walked into the room, Declan hugged him tight and didn't let go for a long time. It was the quietest he's ever been, his teachers told WMUR.
"Do you have any words in your heart to describe how you're feeling?'' Declan's teacher asked him.
"Good,'' the six-year-old said quietly, still clutching his father while sitting in his lap.
Declan got to leave school early to be with his dad that day. Watch the reunion below.
[fragment number=0]