Local
A Burlington deli is serving a Donald Trump sandwich special
The main ingredient? Bologna.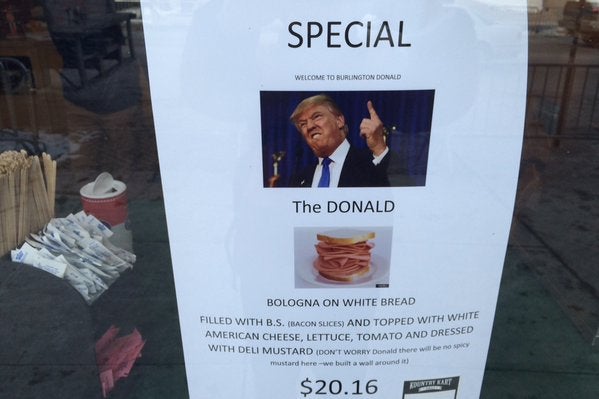 To welcome Donald Trump to Burlington, Vermont, a local deli is offering a special sandwich inspired by the blustering Republican presidential candidate.
[fragment number=0]
Kountry Kart Deli owner Mike Williams told Boston.com they have received zero orders Thursday for the $20.16 sandwich.
"No spicy mustard here,'' the sign assures Trump. "We built a wall around it.''
Reaction from customers has been very positive, according to Emily Brownsword, a deli employee.
"People have been coming by and stopping to take pictures, and talking about it inside,'' she said, adding that Kountry Kart doesn't usually serve bologna.
The Secret Service did "ever so politely ask'' the deli — which is located immediately next to the Flynn Center, where Trump will appear Thursday night — to take the sign down from the window, Williams said. He obliged, not wanting to create any trouble, and moved the sign inside the store.
The deli also put two tip jars — one with Trump's face and one with Burlington's own Bernie Sanders' face — to poll customers on who they support.
At the end of the day, the Trump jar had received $6.70, Williams said. The Sanders jar got $120.
Williams said he still hasn't decided who he will vote for, but said he respects Sanders and appreciates the 30-plus years of work the senator had done for the state of Vermont.
Meanwhile, the Sanders campaign sent out emails to supporters Thursday, fundraising off Trump's visit to Burlington.
"Trump wants people to think that in our hometown, he has more support than us,'' Sanders campaign manager Jeff Weaver wrote. "Well, you and I know that's not true.''
Burlington — where Sanders was mayor from 1981 to 1989 — is also the location of the presidential campaign's headquarters.
"Our campaign is the best firewall preventing Donald Trump and his dangerous rhetoric from ever getting into the White House. And today, we can make him pay for it,'' Weaver wrote, suggesting a $3 donation.
'This'll be yuge.'' he added.
If the Kountry Kart's tip jars are any indication, he could be right.