Local News
Charlie Baker joins in rebuke of Maine Gov. LePage's remarks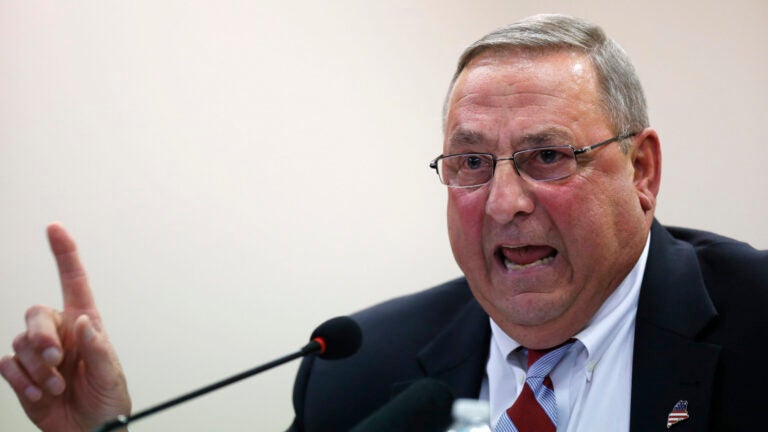 Massachusetts Gov. Charlie Baker and Hillary Clinton took aim at Maine Gov. Paul LePage for his comments that out-of-state drug dealers named "D-Money, Smoothie, Shifty'' were coming to Maine to sell drugs and impregnating "young, white'' girls.
"Governor Baker believes there is no place for such offensive, discriminatory language in political discourse, including commentary that perpetuates the stigma faced by individuals suffering from addiction,'' said Billy Pitman, Baker's deputy communications director.
He highlighted the "landmark'' legislation that Baker introduced in October that provided a series of proposals for dealing with the opioid epidemic.
LePage's controversial comments came during a town hall in Bridgton, Maine on Wednesday night when the Republican governor explained his plan to target drug traffickers.
"These are guys with the name D-Money, Smoothie, Shifty. These types of guys, they come from Connecticut and New York, they come up here, they sell their heroin, then they go back home,'' LePage said. "Incidentally, half the time they impregnate a young, white girl before they leave, which is a real sad thing because then we have another issue we've got to deal with down the road.''
[fragment number=0]
LePage communication director Peter Steele said the governor "is not making comments about race,'' he said in an emailed statement.
"Race is irrelevant. What is relevant is the cost to state taxpayers for welfare and the emotional costs for these kids who are born as a result of involvement with drug traffickers. His heart goes out to these kids because he had a difficult childhood too. We need to stop the drug traffickers from coming into our state.''
In a statement, Hillary Clinton's campaign slammed the comments as "offensive and hurtful'' and said they "cover up the very real epidemic of drug abuse'' in Maine and across the U.S.
"LePage's racist rants sadly distract from efforts to address one of our nation's most pressing problems,'' Clinton's campaign said. "Sadly, Governor LePage's comments aren't too dissimilar from the divisive, misleading and hateful rhetoric we're seeing from Republicans across the country these days.''
LePage's comments also put focus on New Jersey Gov. Chris Christie because of their relationship. LePage was the first major elected official to endorse Christie in his bid for president last July. At the time, Christie said he supported LePage's leadership and said his endorsement was an "incredible honor.''
National Democrats seized on that connection in an attempt to criticize Christie.
"Paul LePage's comments are disgusting, racist, and represent the worst form of conservative politics – one that plays to the darkest elements of the Republican Party's base,'' Michael Tyler, the Democrat National Convention director of African American media, said in a statement. "By remaining silent, Gov. Christie condones LePage's racist comments and his worldview. If Chris Christie has a single ounce of integrity, he'll immediately renounce Gov. LePage's endorsement.
Christie's campaign did not immediately respond to a request for comment.
Several Maine lawmakers joined in the attacks on LePage. Phil Bartlett, chairman of the Maine Democratic Party, told the Portland Press-Herald that LePage's comments were "outrageous'' and "indefensible.''
In addition, American Civil Liberties Union of Maine's executive director Alison Beyea told the Press-Herald that LePage's words were "race-based fear mongering, reminiscent of shameful times in our nation's past.''
Gallery: 100 years of Massachusetts governors
[bdc-gallery id="145180″]