Local
Investigators return to the scene of a North Andover explosion that injured four
The Dow workers suffered blast injuries and burns in a chemical explosion on Thursday.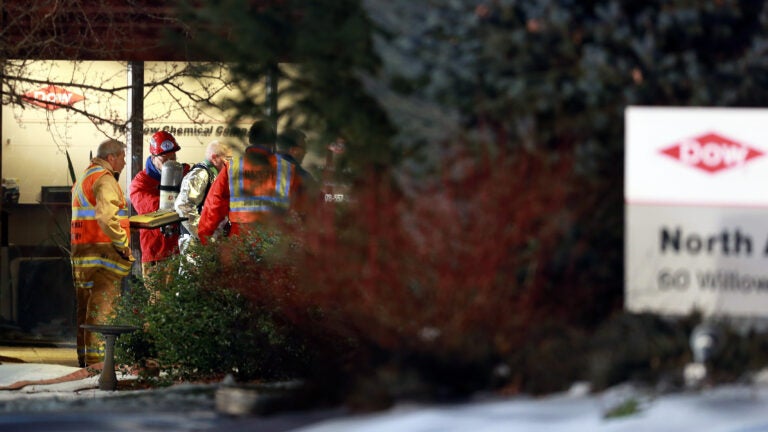 Investigators returned Friday morning to Dow Chemical Company in North Andover, where four employees were critically injured in an explosion Thursday.
"The hazmat team and the [Massachusetts] state police bomb squad are going back into the lab where the explosion occurred, trying to make it safe for the fire investigators to get in there,'' said Jennifer Mieth, spokesperson at the Massachusetts State Fire Marshal's office.
The injured were taken to Lawrence General Hospital on Thursday afternoon after the 2:30 p.m. incident. Three workers were airlifted to Boston hospitals for treatment, while the fourth remained at Lawrence General Hospital. The names of the injured employees have not been released.
"What the patients had was [sic] blast injuries from the pressure of the explosion, as well as a chemical on their bodies that they were exposed to, and burns as well,'' George Kondylis, chief of emergency medicine at Lawrence General Hospital, told WBZ.
The explosion happened in a company laboratory. It was caused by Trimethylaluminum, which is used to make electronics and LED lights.
"This chemical reacted with water, which resulted in the explosion,'' State Fire Marshal Stephen D. Coan told reporters Thursday night.
Coan said nearby residents weren't in danger.
This is the second explosion in three years at Dow. A 2013 explosion killed a worker. Coan said the two incidences are unrelated.
"It was a totally different type of chemical, it was a different type of operation that resulted in that incident,'' Coan said.