Local
MBTA seeks crackdown on OT as fare hikes loom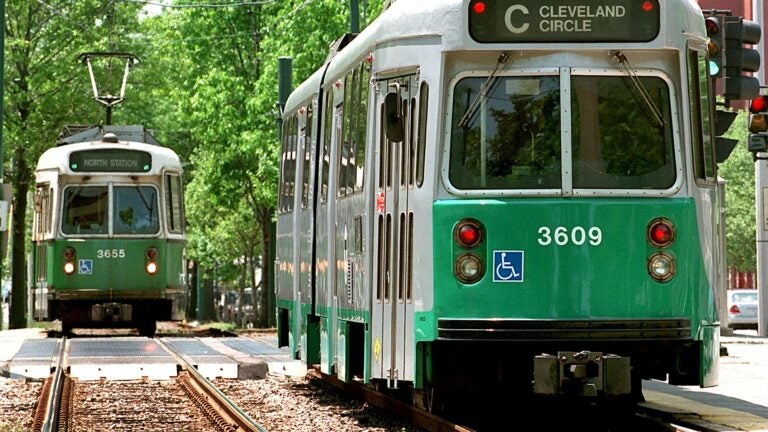 BOSTON (AP) — The Massachusetts Bay Transportation Authority has launched an internal audit of overtime payments and procedures as it faces a growing budget deficit while coping with aging infrastructure.
The audit, expected to take several weeks, comes as MBTA officials reveal payroll figures showing the agency paid out $75 million in overtime last year, up from $61 million the previous year, and that 1,551 employees earned more than $100,000 in gross pay in 2015, including overtime. Twenty-seven others took home more than $200,000 and two topped the $300,000 mark, according to the data.
The review comes at an especially sensitive time for the nation's fifth-largest transit system, which faces a projected $242 million operating budget shortfall in the next fiscal year and recently began a process likely to result in fare increases of up to 10 percent. Transit managers are under increasing pressure, from riders and state lawmakers, to show the T can manage its own affairs properly before asking commuters to shell out more to use the beleaguered system.
During the 2015 fiscal year, which ended last July, T officials said a surprising 43 percent of operating budget overtime went to employees who worked less than 40 hours in the weeks they received the overtime. That's because of union contracts that pay overtime after eight hours in a given day, regardless of how many hours are worked over an entire week.
In addition to the internal audit, the accounting firm KPMG is reviewing payroll records and timesheet submissions for the heftiest overtime earners in 2014 and 2015.
Near daily service disruptions are only adding to the public's skepticism of the T. On Tuesday, state transportation officials said frigid weather contributed to a commuter train derailment in Andover, and while no passengers were aboard at the time, the incident created major delays for many riders north of Boston. On the previous day, a disabled train backed up the T's Orange Line, and a week earlier evening rush-hour service was suspended on a portion of the Blue Line when a metal grate broke loose in the ceiling of a subway tunnel.
None of the recent problems are on the scale of the crippling breakdowns during last winter's record-setting snows, but neither can they foster renewed public confidence in the system, especially if there's a perception of bloated overtime or other personnel abuses.
Brian Shortsleeve, the MBTA's chief administrator, told reporters this week he expects ''very significant'' reductions in overtime in the future.
T officials note that 86 percent of the spike in overtime from 2014 to 2015 appears to be tied to the unprecedented winter weather. More generally, however, they point to absenteeism as the single biggest overtime driver.
Bus drivers and rail operators, according to previously released figures, averaged 33 unscheduled absences in the 2015 fiscal year, the bulk of it coming from sick days and time off under the Family Medical Leave Act. The absences often result in shifts having to be filled by overtime.
''We directly bring people in on overtime to cover for some of the unscheduled absences so that we don't have to drop trips or otherwise impact services,'' said state Transportation Secretary Stephanie Pollack.
The T's largest unions, which negotiated many of the work rules, have largely supported initiatives to reduce absentee rates, Shortsleeve said. James O'Brien, president of Boston Carmen's Union Local 589, did not immediately return a call seeking comment on the overtime audit.
An outside firm hired recently made recommendations to transit officials for addressing absenteeism and tightening leave policies, including the hiring of a full-time FMLA administrator and stricter adherence to procedures for recording sick calls from employees and requiring medical certification for leave.