Local
Attorney for accused killer of Bella Bond calls case 'extraordinarily weak'
Michael P. McCarthy is charged with first-degree murder, accused of beating to death the toddler girl known for months only as 'Baby Doe.'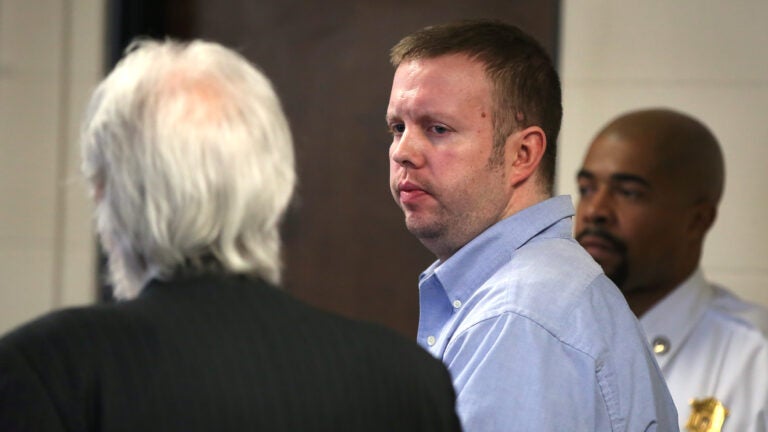 The only evidence investigators have against Michael McCarthy — the accused killer of the girl known for months only as Baby Doe — are the self-serving statements of the girl's mother, McCarthy's attorney argued at his arraignment Monday.
In a lengthy rebuttal against the prosecution's case, Jonathan Shapiro called Rachelle D. Bond's statements to police uncorroborated and unbelievable. She lied to investigators to save herself, Shapiro said, telling them months after her daughter died that her live-in boyfriend, Michael McCarthy, was the one who killed her baby girl.
"Although it's clear that the Commonwealth is buying hook, line and sinker what Ms. Bond says, this court need not and should not accept her statement,'' Shapiro said. "The Commonwealth's case against Mr. McCarthy is based entirely upon what Ms. Bond concocted to cover up her own guilt.''
McCarthy, charged with first-degree murder, was held without bail. Shapiro asked for $100,000 bond for McCarthy, who has been jailed since his arrest Sept. 18. Bond is held under $1 million bail.
Much of what Assistant District Attorney David Deakin told the court Monday about the case is well known by now: That Bella, on a night in late May or early June, was fussy going to bed. That Bond sent McCarthy into the girl's room to settle her down. That after a few minutes of silence, Bond went into Bella's room and saw McCarthy beating the toddler, who was grey and swollen.
And then, according to investigators, after a multi-day drug binge while Bella's body waited in a refrigerator, the pair decided to toss the girl into Boston Harbor. They got weights from McCarthy's dad's plumbing shop, and tucked those and the tiny body into a duffle bag before throwing it into the ocean.
On June 25, the girl was found on the shore of Deer Island, and a computer-generated image of her face was splashed across the news and social media.
She didn't have a name until months later, when Bond allegedly confessed to a lifelong friend of McCarthy's.
McCarthy, decidedly more alert and clean-shaven than his first appearance back in September, fidgeted slightly as the case against him was read. He looked briefly into the crowd of reporters and onlookers, including his father, Joseph McCarthy.
Shapiro said McCarthy was fooled by Bond just like the rest of her family and friends. She told them that the Department of Children and Families had taken Bella, just like her two older children.
"That's what Ms. Bond told him and that's what he believed,'' he said. "Mr. McCarthy did not kill Bella Bond. On the contrary, all the evidence points to Ms. Bond as the perpetrator.''
In a new disclosure, Deakin described a text exchange on July 16 — weeks after Bella died — between McCarthy and Bond, while she was by herself at housing court on an eviction case.
"Whatever you do, don't tell them you have a daughter … We don't want DSS [referring to the Department of Children and Families] getting involved,'' he wrote, according to Deakin.
The prosecutor said that was code, telling Bond not to bring up Bella because social services workers would want to know where she was.
Bond told investigators that McCarthy threatened to kill her if she said anything about Bella. Her attorney, Janice Bassil, said at her arraignment last week that Bond was psychologically and emotionally under McCarthy's control.
But Shapiro said all that is a lie. McCarthy was gone from her Dorchester apartment for hours each day, he said. She was free to come and go as she pleased. He told her not to mention Bella, Shapiro said, only because it would complicate the housing issue.
He also pointed out Bond's statement that Bella was grey and swollen — yet the medical examiner found no traumatic injuries to the girl's head, nor any broken bones.
There is still no official cause of death for the toddler girl.