Local
Chris Christie could be the new Mitt Romney—but not in a good way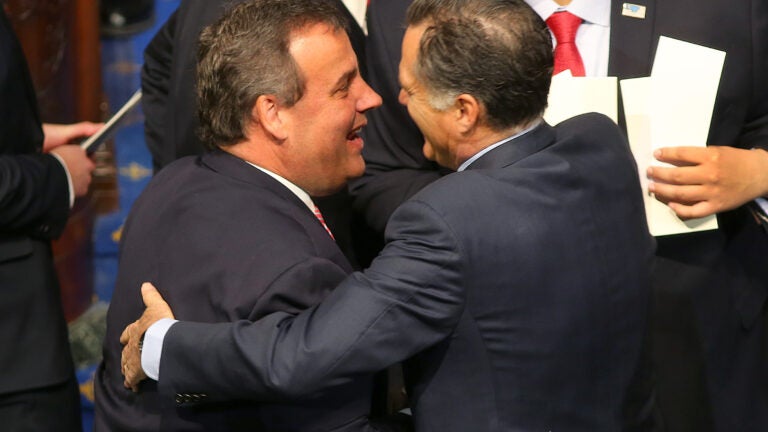 Chris Christie's "telling-it-like-it-is'' campaign has gotten the New Jersey governor major New Hampshire endorsements, but little else in terms of electoral traction, nationally or in the Granite State.
According to Boston Globe political reporter Matt Viser, much of Christie's troubles stem from his political career as a Republican in a heavily-Democratic state — not unlike another recent GOP presidential candidate.
Like former Massachusetts governor Mitt Romney — tagged for changing his positions so often that critics showed up at his presidential campaign events toting giant flip-flop sandals — Christie faces a challenge running as a blue-state governor in a Republican presidential primary. In choosing to adjust to meet the expectations of a more conservative audience, at a time when polls say voters crave authenticity, he has opened himself to attacks by opponents who say he lacks core convictions.
Though for Christie, it's less of a flip-flop than it is a sweeping slide to the right as the Republican presidential candidate tries to sway the party's base. From education to abortion to gun rights, Christie has changed positions, since his time running for office in New Jersey, to appeal to conservatives who vote in the primary.
This, Viser writes, is a problem when "telling it like it is'' is the foundation of one's campaign.
"The challenge is that now, inside a primary, so much of the debate is focused on ideological purity,'' Kevin Madden, a Romney campaign aide in 2008 and 2012, told Viser. "And the challenge is how you balance that in a way that still maintains a level of authenticity.''
Now, after a modest surge in New Hampshire polls, Christie must defend himself from attacks from his Republican rivals for his shifting positions and his record as New Jersey governor.
Read Viser's full piece for The Boston Globehere.