Local
Secret Service agent paralyzed in fatal NH crash gets married at Mass. General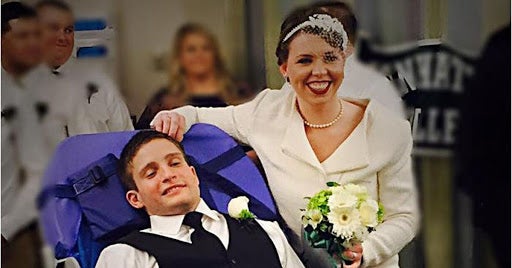 Garrett FitzGerald, a Secret Service agent who was paralyzed last month in a fatal New Hampshire car crash, got married in Massachusetts General Hospital's intensive care unit over the weekend.
The 30-year-old was scheduled to marry his fiancee Joan Lyall in March, but the wedding was moved up to Saturday "given the circumstances around the accident and Garrett's impending intense rehabilitation schedule,'' according to one of his best men, Rob Freed.
"There was not a dry eye in his ICU room as family from all over the world video streamed the ceremony live,'' Freed wrote. "Cheers to Garrett and Joan and a lifetime of memories, happiness and smiles together.''
Freed told Boston.com the wedding was streamed to family throughout the United States and in Scotland. Freed and Scott Auckerman, another of FitzGerald's best men, set up a GoFundMe page to support the newly married couple through the impending, "grueling'' recovery.
FitzGerald was one of four agents — in the state as part of Hillary Clinton's security detail — involved in the December 29 accident. Their car was struck head-on by another car, a Mercury Sable, which crossed into their lane on an icy Route 16 in Wakefield.
The driver of the Sable was killed in the accident.
While the three other Secret Service agents were hospitalized and shortly thereafter released, FitzGerald sustained spinal cord injuries that left him unable to feel or move below his shoulders.
The couple had just moved to Boston in September and, prior to the accident, had been planning their wedding and adjusting to their new jobs. Lyall is a speech pathologist at Boston Children's Hospital.
"While Garrett remains in care at Mass General Hospital in Boston, he will be transferred to a specialized spinal cord injury rehabilitation center in either Boston or Central NJ in the coming days,'' Freed and Auckerman wrote. "There is absolutely no doubt that Garrett possesses the determination to excel in his recovery.''
The father of Kristina Buswell — one of three passengers in the Sable, who suffered severe internal injuries and was in a medically induced coma for 24 hours after the crash — posted on the GoFundMe page to let FitzGerald know his daughter, who is recovering, was "despondent'' after hearing of his condition, but also wished them a happy marriage.
"Please know she, and we, her parents, wish you a full and complete recovery, and a timely and lasting marriage,'' Richard Buswell wrote.