Local
Are police officers being assaulted and killed more?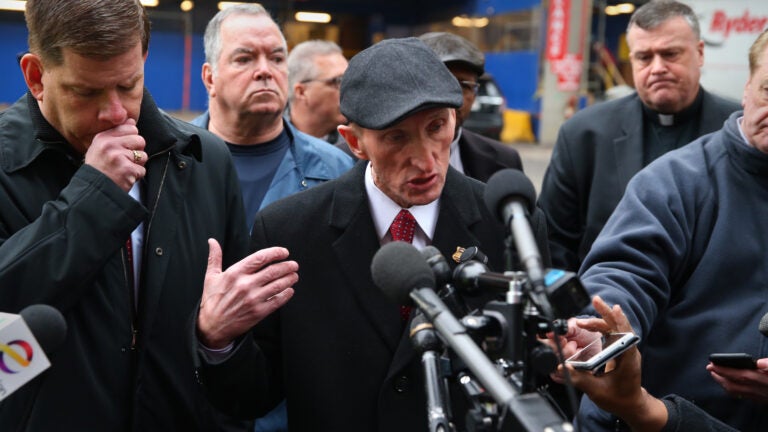 The non-fatal shooting of a Boston Police officer on Friday spurred the president of Boston Police Patrolmen's Association to speak out against what he saw as increasing violence against law enforcement.
"It's far too common for people to take shots at police officers in this country,'' Patrick Rose said. "The bottom line is, though, we are the targets.''
Rose cited the shooting in Philadelphia on Thursday, in which a 30-year-old man allegedly fired multiple times at an officer through a window in his police vehicle. The officer was shot multiple times but survived.
"This has become a daily occurrence in this country,'' Rose said.
Rose is not alone in that assessment. His sentiments have been echoed by politicians, law enforcement officials, and the public who have criticized what they view as a growing number of attacks on police. A Rasmussen poll taken in September found that 58 percent of people agreed there was a "War on cops,'' while just 27 percent disagreed.
But data from the FBI shows that the number of officers killed in the line of duty is flat or slightly down over the last 10 years, and those numbers are well below where they were in the 1970s. In addition, FBI data shows officers assaulted by firearms has remained flat in the last 10 years as well.
A total of 505 law enforcement officers were feloniously killed from 2005-2014, an average of about 50 killed per year, according to FBI data.
The FBI data shows that there were 27 officers feloniously killed in 2013, about half of the average over the past 10 years and the fewest in recent history. In 2014, the number of officers feloniously killed rose to 51.
The FBI has not yet released data on 2015. However, data from the Officer Down Memorial Page, a non-profit that tracks officer deaths, counted 39 officers killed by gunfire in 2015. Although that is a slightly different metric than the FBI figure, the twofigures have tracked closely over the past 10 years.
Tom Nolan, a 27-year veteran of the Boston Police Department and currently an associate professor of criminology at Merrimack College, said attacks on officers has been going down since at least the 1990s, according to FBI data.
It's never been a safer time to be a police officer, Nolan said.
"Patrick Rose is not an academic researcher. He's not trained to look at FBI figures,'' he said. "Thankfully so, the number of police officers killed are actually going down.''
In a phone conversation, Rose said he stands by his comments from the press conference.
Former Boston Police Commissioner Ed Davis said that the FBI numbers "speak for themselves.''
"A shooting of an officer is a very, very serious incident,'' Davis said. "I can certainly understand the union president's concern.''
FBI data shows a decline in assaults on officers over the past 10 years.
These assaults include all manners of weapons, from firearms to knives to other dangerous weapons.
As for assaults involving a firearm, such as the one on a Boston Police officer in Dorchester on Friday, the numbers have not changed much since 2005.
There were 1,950 firearm assaults on officers in 2014, the second-lowest number in the 10-year period. Just a year earlier, though, there were 2,299 firearm assaults on officers, the highest in this 10-year period.
Nolan said the narrative that there is a new "War on cops'' is a reaction to the increased attention and scrutiny of law enforcement stemming from high-profile cases in Ferguson, Baltimore, and New York, among others.
"Police feel that they are somehow being undermined and their perspectives are being dismissed and challenged,'' Nolan said. "Their reaction to that has been to craft this counter-narrative of this 'War on cops,' which is non-existent.''
Kurt Stokinger, the officer shot on Friday, is expected to recover. Massachusetts has had two other high-profile shootings of police officers in the past two years. In March 2015, officer John Moynihan was shot in the face and survived during a traffic stop. And in January 2014, New Bedford detective Jonathan Lagoa survived being shot during a drug bust.
In Massachusetts, six officers have been killed by gunfire since 2000, according to the Officer Down Memorial Page. The most recent was MIT Police officer Sean Collier, who was shot and killed in the aftermath of the 2013 Boston Marathon bombings.
The last Boston Police officer killed by gunfire in the line of duty was officer Berisford Anderson 22 years ago, according to Officer Down Memorial Page.