Local
This quote shows the resiliency of the 9-year-old Syrian refugee at the State of the Union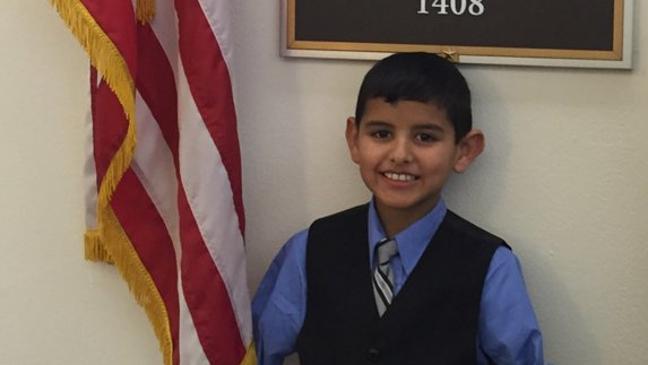 Nine-year-old Ahmad Alkhalaf, of Sharon, has come a long way from his home country of Syria to watch President Barack Obama deliver his final State of the Union address.
When Ahmad was seven, he lost three siblings and both his arms when the Syrian government bombed his family's refugee camp. His experience, sadly, is not unlike that of thousands caught in the Syrian conflict.
Ahmad's resiliency, however, is something special. In a WBUR interview Tuesday, he was asked about being wounded and losing so many family members in the war:
[fragment number=0]
[fragment number=1]
After obtaining a medical visa, Ahmad and his father moved to Sharon six months ago, as Ahmad receives treatment at Boston Children's Hospital. In November, he sent a letter to Obama, asking the president to remember the Syrians still suffering in the war.
Ahmad was invited to the State of the Union by Rep. Seth Moulton, of Massachusett's 6th congressional district, who had noticed the 9-year-old's letter.
Moulton said Tuesday he thinks it's important to provide a "human face to the refugee crisis in Syria.''
[fragment number=2]
"At the end of the day, these are real people,'' Moulton said. "People like Ahmad, someone who lost his arms in a tragic airstrike and isn't just thinking about himself. He's thinking about his fellow Syrians, his siblings, the other people who are suffering everyday under ISIS and the regime. America's in a position to help. We should turn our back''
Ahmad's mother and four other surviving siblings are living in Turkey.
In Tuesday's interview, Ahmad said he is being treated well at Boston Children's Hospital and wants to become a doctor when he grows up to help others like they have helped him.
Doctors say Ahmad is a "perfect candidate'' for a double-arm transplant.