Local
How will GE fit in with the Seaport?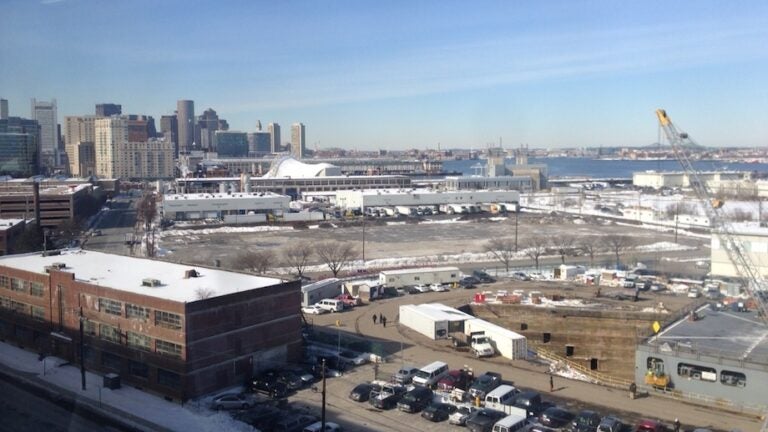 General Electric is reportedly considering moving into an existing property or building a new one as it relocates its headquarters from Connecticut to Boston. But even if it hasn't settled on a specific location, the company says it plans to set up shop in Boston's Seaport District.
So what will that mean for the already heavily commercial neighborhood?
Steve Hollinger, who chronicles the South Boston Waterfront through his FortPointer Twitter feed, said he expects adding GE will be a "net positive'' from a resident's perspective.
"It's a corporation with an industrial and innovation mindset that I think dovetails with the history of this area,'' Hollinger said. "I'm really positive about GE's history of innovation. … I think that fits well with the creative community.''
But Hollinger has a few concerns about adding GE to the mix. In particular, he hopes the headquarters won't interfere with existing housing plans, neighborhood amenities, or access to the waterfront.
As the Seaport has grown in the last decade-plus with corporate offices and the Boston Convention and Exhibition Center, a common criticism has been that it has failed to establish much of a neighborhood vibe. Hollinger said that even with ongoing residential construction, "it's hard to feel that commitment to a neighborhood vision.''
Hollinger noted that GE's headquarters, expected to employ 800, would be smaller than others in the Seaport. And if it doesn't interfere with housing goals, the area still has "plenty of room for office space,'' he said.
"It might as well be a company with a history of innovation,'' he said.
State Rep. Nick Collins, who represents the neighborhood, said GE plans to meet with officials soon to discuss "how it can be a great community partner'' on the waterfront.
As one example, Collins said, GE could participate in summer youth employment programs.
More ambitiously, Collins—who said GE's announcement marked a "great day for the Commonwealth, the city, and the community''—suggested the company could help pay for transportation improvements in the neighborhood. Traffic and parking are tough in the Seaport, and the Silver Line is often crowded.
"I'd like to see them come to the table with other private sector partners,'' he said.
However, at least in the short term, it may be more likely that GE's transportation needs will be solved by the public, not the other way around.
The incentive package used by the city and the state to entice GE includes a pledge from the city to complete existing transportation projects in the neighborhood. And according to a source familiar with the package, the state's incentive of as much as $120 million will cover infrastructure costs related to establishing the headquarters. Depending on where GE winds up, that could include new roads, parking facilities, or highway ramps. (It could also be used for utility, sewage, water, and other work.)
To Jeff Bussgang, a venture capitalist with Flybridge Capital in Boston, GE's choice of location "reinforces'' the innovation-centric reputation of the Seaport. The neighborhood, whose roster of headquarters includes Vertex Pharmaceuticals and LogMeIn, has also attracted large financial and legal firms.
"I think what the Seaport has become is even more of a destination, with critical mass now,'' Bussgang said.
Bussgang celebrated GE's move as a "watershed moment'' for Boston's tech sector. Mayor Marty Walsh said Wednesday that GE's decision could "open the door'' to more big businesses looking to come to the city.
If GE were to draw other companies to Boston, the Seaport would likely be their top choice as well, Bussgang said.
"If they can find the space,'' he said.
Famous Massachusetts companies:
[bdc-gallery id="467115″]