Local
Massachusetts fishermen fear new rules smothering industry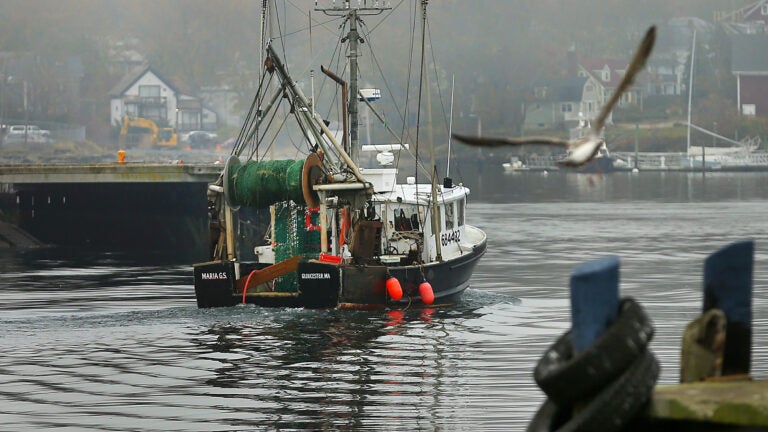 GLOUCESTER, Mass. (AP) — Gerry O'Neill looks at the water world spinning around him, a world of regulation and re-regulation and over-regulation— in other words, the modern world of commercial fishing —and thinks that he's seen this movie before.
Two days removed from the public comment hearing at the state Division of Marine Fisheries offices on Emerson Street on potential changes to rules governing the scope and the schedule of the herring season, O'Neill sits in his office on Jodrey State Fish Pier and wonders if his two 141-foot mid-water trawlers Challenger and Endeavour and the Cape Seafood fish processing and sales operations that collectively employ almost 40 full-time workers— and even more when the product is flowing —will survive the future any better than the nearly decimated Gloucester groundfish fleet.
''At the end of the day, the groundfishermen are struggling and everybody knows that and it's because of over-regulation as well,'' O'Neill said. ''We're not dying yet. But if they keep doing what they're doing, we're going to go the same way as the groundfishermen.''
Given the state of the groundfish fleet, that is a chilling phrase, made even more-so by his matter-of-fact delivery in the soft brogue of his native Ireland and his admission that he favors regulations that will sustain the fishery even when they cost him fish and money.
His voice was steady and calm, just as it was at last week's session in which David Pierce, the executive director of DMF and the state's representative on the Atlantic States Marine Fisheries Commission which governs the Northeast herring fishery, conceded the fishery remains robust.
''The stock remains rebuilt and over-fishing is not occurring,'' Pierce told the approximately 20 stakeholders that attended. ''The mortality seems to be under control and the stock appears to be in a good shape.''
O'Neill couldn't agree more, which makes him wonder why regulators are interested in trying to fix something that doesn't appear to be broken and why they can't understand the economic consequences of further restrictions on where and when the mid-water trawlers— now more than ever an integral element in Gloucester's struggling fishing industry —may fish.
''It's a healthy stock and overfishing is not occurring,'' O'Neill said. ''But if they keep pushing the industry, we won't be here. This factory won't be here. What are they going to put on this pier then? Condos?''
When O'Neill first came to Gloucester about 15 years ago, his company's fishing plan was pretty evenly split between mackerel— processed for food, and herring —which goes to bait for a variety of other fisheries, most notably lobstering.
But the mackerel disappeared about six or seven years ago and herring now represents 90 percent to 95 percent of his business, O'Neill said.
So how do you fix it?
''I honestly don't know,'' he said. ''We can't afford to give up anymore. We're hanging on by the skin of our teeth as it is.''
Tuesday's hearing, which drew about 20 recreational and commercial stakeholders, laid out several rule changes the Atlantic States Marine Fisheries Commission is considering, including spawning area closures, fixed gear set-aside provisions and an empty fish-hold provision.
Each rule change provides several options ranging from the status quo to even more restrictive rules governing access and gear.
In general that day, the recreational and environmental stakeholders stated a preference for elements that would afford even more protection— or depending on your point of view, restrictions —on the fishery.
The issues primarily deal with a span of water called Area 1A which stretches from north of Cape Cod up along the Massachusetts (including off of Gloucester and Ipswich Bay), New Hampshire and Maine coast lines.
The area is considered one of the three primary spawning areas for herring and, according to O'Neill, is the most dependable place to find the largest quantity and best quality of herring when the mid-water trawlers are allowed in.
The problem, he said, is that the mid-water trawlers are restricted from the area for 10 months out of the season and afforded a disproportionately low percentage of the overall quota when compared to the purse sein fleet from Maine.
''That's part of the unfairness of the whole thing,'' O'Neill said. ''Generally speaking, by the time 1A opens, where we want to fish is right out here, right off Gloucester. That's usually where the fish is. That's usually where the best-quality fish is and that's usually where we can do the most fishing quickly.''
But, he said, reduced access by the expansion of seasonal and spawning closures in recent years has squeezed the mid-water trawl fleet out of Area 1A and sent it father away to fish and moved it closer to the breaking point.
''We have seasonal restrictions in Area 1A and seasonal restrictions in Area 1B. Georges (Bank) is closed to us until May 1 because of the haddock cap,'' O'Neill said. ''Now we only have one area that we can fish and there's no fish there.''
That would be Area 2, which runs directly south of Martha's Vineyard and Nantucket. That's where Challenger and Endeavour were running on Thursday, but without much joy to report.
''We know there's fish in 1A,'' O'Neill said. ''We know there's fish on Georges. I think there's fish in 1B. Right now, we're down in Area 2 looking for fish and there's no fish.''
By his own estimation, the more restrictive measures forced herring fishermen to leave about 10,000 metric tons of fish in the water last year that rightfully were theirs under the prescribed quota.
''You work out all that quota's that's uncaught, and even if you're conservative and say its 10 cents per pound on value, that's a lot of money and wages,'' O'Neill said. ''And we're not looking for more. We just want to be able to catch what we're allowed to catch.''
The areas encompassing the Northeast herring fishery has always been something of a republic of fisheries, drawing any number of different types of fishermen and their gear— mid-water herring trawlers and purse seiners; recreational and commercial tuna fishermen; and lobstermen —which create a particular set of conflicts as seasons and interests overlap.
Those conflicts, O'Neill believes, are generally minor and almost routine compared to the threat O'Neill sees from the environmental and conservationist interests— also known as non-governmental organizations (NGOs) —on land.
''The overall (regulatory) process is very difficult,'' he said. ''You've got a lot of different groups that want what they want.''
His problem, he said, is a growing conviction that the NGOs are more interested in putting the mid-water trawlers out of business than they are protecting the resource.
''It makes it very difficult when you go to the table to have a discussion with somebody and you're sitting across from them and they're telling you they don't want to put you out of business,'' O'Neill said. ''But everything they do is trying to put you out of business. I think the long-term goal for NGOs is no fishing.''
___
Information from: Gloucester (Mass.) Daily Times, http://www.gloucestertimes.com