Local
While Donald Trump holds back in New Hampshire, Ted Cruz plows ahead with attacks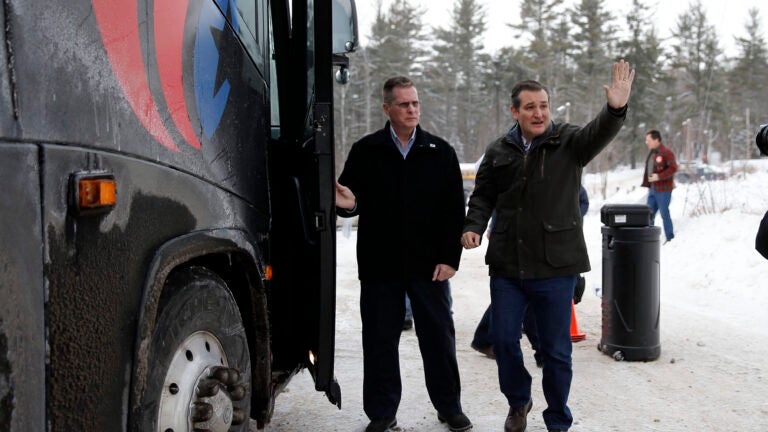 Both Donald Trump and Ted Cruz were in New Hampshire on Monday. Following Thursday's debate and subsequent weekend events, in which the once-friendly Republican candidates ramped up their attacks, the two seemed poised to continue to spar.
But at a campaign rally in Concord, the usually attack-happy Trump didn't mention Cruz once, nor did he at an earlier rally Monday at Liberty University in Virginia.
Perhaps Cruz didn't know or didn't care his rival in the "outsider lane'' was holding back, because the Texas senator continued to assail Trump for his past views in a WRKO interview with conservative radio host Jeff Kuhner, per BuzzFeed's KFILE.
[fragment number=0][fragment number=1]
"Listen, Donald Trump vocally and enthusiastically supported TARP, the bailout of the big banks. He vocally and enthusiastically supported Barack Obama's stimulus plan. And indeed he said the stimulus wasn't big enough, it needed to be larger,'' Cruz said.
"And Mr. Trump argued that Obamacare should be expanded to make it socialized medicine,'' he added.
Trump's past support of Obama policies has been well-documented. The billionaire real estate mogul repeatedly praised the 2009 bank bailouts, according to PolitiFact.
Also in 2009, Trump praised Obama's stimulus proposal on Fox News, via BuzzFeed News, adding, "I thought [Obama] did a terrific job. This is a strong guy knows what he wants, and this is what we need.''
And Trump did at one point express support for a single-payer-type healthcare system, but has recently repeatedly criticized Obamacare. The Trump campaign, however, has also been very unclear about how they would hypothetically replace Obamacare.
Meanwhile, Cruz tried to contrast Trump with himself as a consistent conservative.
"That is very much a record of standing with Wall Street and the giant banks; my record is exactly the opposite. We should have no bailouts, ever, period, the end, and I've stood up and taken on the big money Washington cartel over and over and over again,'' Cruz said in Monday's interview.
"The most important question for anyone in a Republican primary to ask is how do we distinguish between who's telling the truth and who is yet another politician just saying on the trail what they think we want to hear,'' he added, suggesting Trump would not follow through with his words if he were elected.
"Don't listen to what any of us say on the campaign trail, but rather follow the biblical principle, 'You shall know them by their fruits.' Ask what they have done," Cruz said, going on to list Trump's long history of donating to Democrats and supporting traditionally Democratic causes.
Wrapping up the interview, Kuhner pushed Cruz to go even further.
"I don't want to put words in your mouth, but you've said it without saying it,'' the radio host said. "Are you essentially saying Trump is a fraud and a hypocrite?''
Perhaps not by coincidence, "hypocrite'' was the exact word Trump used to describe Cruz over the weekend.
"Well those are your words, Jeff,'' Cruz responded. "I like Donald Trump. I respect him, I will point out where we have policy differences and I trust the men and women of New Hampshire to make the determination who's telling the truth and who's blowing smoke.''