Local
Boston police data shows black men were stopped most often
Police released a database of nearly 150,000 civilian encounters.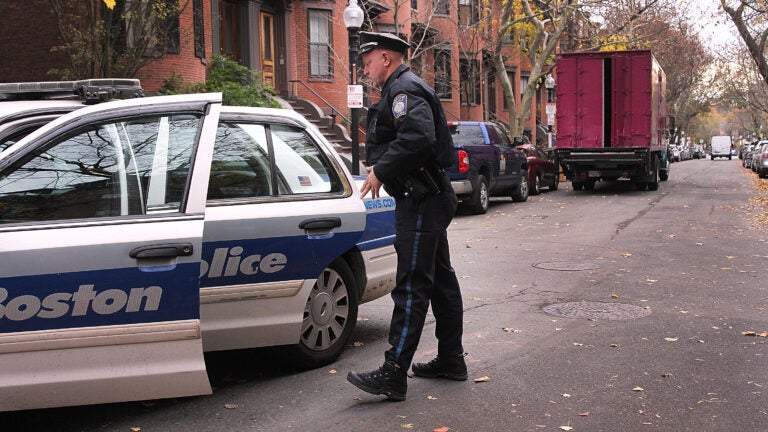 A trove of data released by Boston police shows black males were the most likely demographic group to be stopped by officers in recent years.
Police released hundreds of thousands of Field Interrogation/Observation reports — or FIOs — on the city's open data site earlier this month.
The data, covering 2011 to April 2015, details 149,545 encounters between Boston police and civilians. Officers have to fill out these reports after interrogating, observing, frisking and/or searching a civilian.
The reports include the person's name, nickname or alias, race, age, whether they have a prior record, what they look like, why they were searched, what was searched, where police encountered them and the outcome of the stop.
The American Civil Liberties Union of Massachusetts had been asking for the data since September 2014 and sued for it last summer.
Boston.com combed through the data over the last week. Here's some of what we found.
Black males are the most likely to be stopped
More than half of those stopped — 56 percent — were black males. White males were the next most-stopped group, at 17 percent, followed by Hispanic males at 12 percent.
In their own analysis, Boston police said "nearly 59 percent of the FIO subjects were black.'' But about 4.3 percent of the total reports don't state a race, or the officer checked "unknown.'' Taking out those blanks or unknowns, the actual percentage of black people stopped among those with a known race is 61.2 percent.
Boston's population is about 25 percent black. More than 87 percent of everyone stopped had a criminal record.
"This comparison does not consider any contextual information such as neighborhoods, crime hot spot locations, or offending populations,'' police said in a statement.
Most people were stopped for an "investigation''
The number one reason why someone was stopped? "Investigate, person.'' More than 60 percent of the stops were made for this vague reason. Behind it, at 14 percent, was "violating auto laws,'' like driving without a license.
A much smaller percentage were for actual crimes, including trespassing (3.1 percent), drug investigation (2.33 percent), motor vehicle investigation (2.3 percent), warrant arrest (1.61 percent), disturbance (1.35 percent), public drinking (1.33 percent), prostitution (1.08 percent) and shoplifting (0.9 percent).
One officer made two of every 100 stops over the last five years
Nearly 1,800 officers — almost all of Boston's roughly 2,000-member police force — made a FIO report over the 40-month period.
One officer entered 2,904 reports, or nearly two out of every 100. Seventeen other officers had more than 1,000 FIO reports. Most of those officers are members of the Youth Violence Strike Force, a unit that is not on regular patrol but is tasked with preventing violence, which includes gang activity.
Boston police said that about 30 percent of the total reports were from the Youth Violence Strike Force. Of the 50 officers who generated the most number of reports, including the officer who had the highest number, 64 percent were Youth Violence Strike Force officers.
The number of reports has stayed steady in recent years
In 2008, more than 55,000 reports were filed with the Boston police. In 2014, it had dropped to 34,531, a nearly 40 percent drop.
Since 2011, the number of reports has stayed steady, with about 34,000 in 2011, 40,000 in 2012 and 33,000 in 2013.
There's still a lot we don't know
Boston police stripped out any identifying information about the FIO subjects, and didn't replace it with a unique numerical identifier for each person stopped. So there's no way to determine, with this dataset, how many times a single person was stopped.
In the analysis of the 2007 to 2010 data, researchers said that two of every three people stopped had just that one FIO. About five percent of those stopped had repeated encounters with police — more than 10 FIOs.
We can't know if white officers are more likely than minority officers to stop minority civilians. Officer race isn't noted in the report. The researchers found in their earlier analysis that white police officers made "significantly higher numbers'' of FIO reports compared to black and Asian officers.
We can't know if those stopped are gang members, or what kind of criminal record they have.
The public has already gotten a peek at earlier versions of these reports, but filtered through researchers. Earlier data, covering the period from 2007 to 2010, was given exclusively to academic researchers, who released a report last summer. They found that the more black and Hispanic residents there were in a neighborhood, the more FIO stops occurred, even controlling for crime and other social factors.
Controlling for age, sex, race and gang membership, black people were 12 percent more likely to be frisked and searched during a stop.
After the researchers' earlier report came out in July 2014, Boston Police Commissioner William Evans announced a new task force of community leaders and a "Bias-Free Policing Policy,'' which forbids policing based on race and gender.
Boston police will provide the new data to those researchers as well.
"I am committed to being as transparent as possible while protecting the privacy of those we encounter,'' Evans said in a statement. "I recognize that there is always room for improvement and continue to look for ways to strengthen our community trust and relationships.''
The ACLU is happy to see the data released publicly, said the group's legal director, Matthew Segal, though they wish it didn't take 16 months and a lawsuit to get it.
"Our hope is that the BPD will find this is a terrific decision on their part and one they want to repeat,'' Segal said.