Local
Here's where Mayor Walsh's State of the City promises stand today
Upgrades in technology have been a boon. The Olympics? Not so much.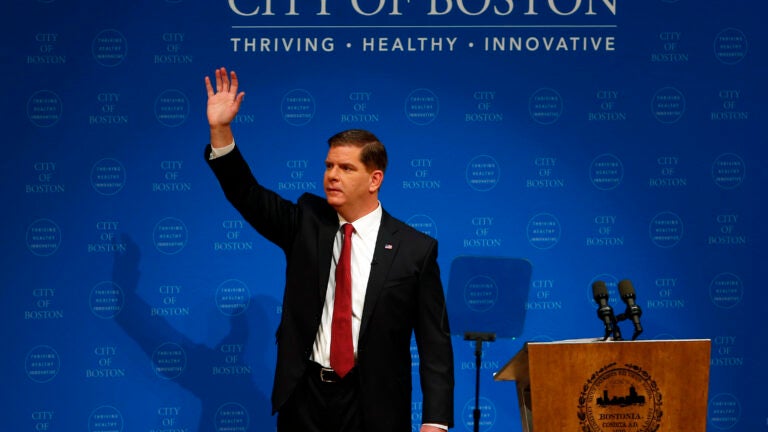 Boston Mayor Marty Walsh gives his second State of the City speech on Tuesday night, giving us a first chance to look back at last year's speech and check the progress made on key issues.
The checkup reveals a number of matched promises, and particular success in Walsh's pledge to bring new technology to City Hall.
On the other hand, though, there was that whole Olympics mess. That didn't go as planned.
Education
One of the major achievements of Walsh's first year was the selection of a Boston Public Schools superintendent. Tommy Chang, who previously worked in the Los Angeles school district, was approved in March and began serving in July.
Walsh's speech also pushed his call for greater access to pre-kindergarten.
"We are expanding high-quality, full-day pre-kindergarten, with the goal of reaching every 4-year-old in the city,'' Walsh said.
That goal won't be reached this year, though. As The Boston Globe reported last month, Boston has moved fairly slowly in increasing access to universal pre-kindergarten, especially compared to New York City. A committee of experts have proposed recommendations for how to create universal pre-K, but the city has not found a way to fund it.
Walsh's speech further announced that his administration would work to build great schools—"literally.'' He announced the establishment of a 10-year Facilities Plan that would identify the needs of fixing up the city's aging schools.
There's one major problem, though: The district currently faces a $50 million budget gap.
The program was formally launched in September, and Walsh said the rebuilding could cost "over a billion dollars.'' The city is working with consultant Symmes, Maini & McKee Associates to develop a plan by the end of 2016.
Tech and innovation
This is the topic that has seen the most immediate progress since last year.
"This year we are creating a Citywide Analytics Team, to bring the power of data to everything we do,'' Walsh said last year.
Count that as a check. On Friday, the mayor's office announced CityScore, which attempts to combine those metrics into one performance score.
As of Monday, the CityScore showed Boston making progess in areas like homicides and shootings, while its pothole on-time percentage — or how quickly the city fixes potholes — left something to be desired.
In his speech, Walsh vowed to revamp Boston's 3-1-1 help line, which residents can use to report non-emergency issues like graffiti or trash pickup.
"We will upgrade the Mayor's hotline into a simpler and more effective 3-1-1 number,'' he said.
Another check. The old mayor's hotline, at 617-635-4500, is now just an easy-to-remember 3-1-1. The city also launched a free app BOS:311.
And in a heavily cheered part of his speech, Walsh announced that the ParkBoston app would replace quarters in paying for parking meters.
The app rolled out in Back Bay and is now in use across the city, according to the mayor's office.
The city additionally unveiled StartHub in 2015, a program offering online resources for tech entrepreneurs in Boston. StartHub was first announced in last year's State of the City before launching in October.
Affordable housing
The mayor's office touted the city's work in building more housing for students and more working families.
Walsh called on universities to build more dorm rooms, for example. His office said that nearly 1,200 dorm beds had been permitted to date in 2015.
In addition, Walsh pushed for greater access to affordable housing, and his office said that the city permitted 1,022 new affordable housing units, the largest number ever in a single year.
Homelessness
With almost no warning, city officials closed Long Island Homeless Shelter in October 2014 because the connecting bridge was found to be unsafe. At his State of the City speech, Walsh used his personal history of alcoholism and recovery to defend this decision, which upended the social safety net in Boston.
"The people and service providers who were disrupted by this move are not just statistics to me. I know them. I know their stories and their struggles,'' Walsh said last year. "This isn't just policy to me. It's personal.''
Walsh said he was committed to sheltering everyone, and said the city was building the nation's first Office of Recovery Services.
Since then, the city opened a new homeless shelter on Southampton Street that has housed over 500 homeless veterans, the mayor's office said. The Office of Recovery Services opened, with its blueprint coming in the form of a report on addiction and recovery in Boston.
The Olympics
Walsh's last State of the City came just days after the U.S. Olympic Committee chose Boston over Los Angeles, Washington, D.C., and San Francisco as the American bid for the 2024 Olympics. As such, Walsh lauded the decision as proving that Boston was a big city that can compete with the best.
"Our vision of a 21st-century, affordable, sustainable Games went up against our nation's greatest cities, and we won,'' he said. "Boston now competes against the world, as America's city. Whatever the outcome, Boston will prove itself a global leader. The whole world will soon know what we have always known: Boston is exceptional.''
Despite months of Walsh's support, the Olympics plan didn't work out very well. The Games proved unpopular locally, and the USOC withdrew its nomination in July, reverting to its second choice of Los Angeles.
Walsh wanted Boston to compete "against the world'' and "prove itself a global leader.'' At least as far as the Olympics were concerned, the city didn't get very far in those goals.