Local
John Kerry reminds us of the good zingers New Hampshire reporters had for him in 2004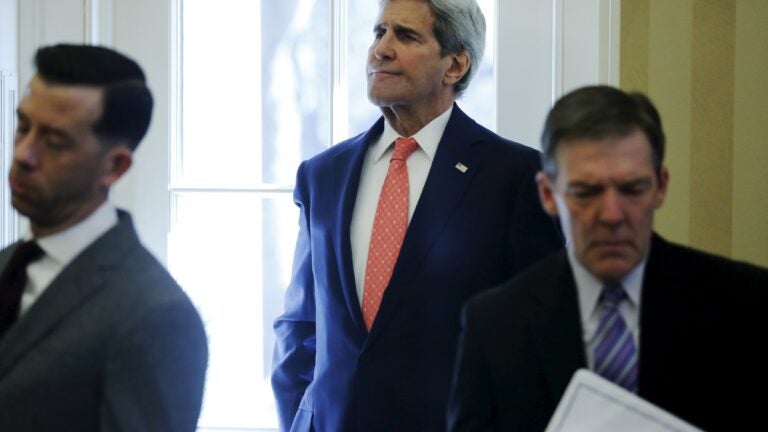 In a first-person essay Tuesday in The Boston Globe, Secretary of State John Kerry recalled what he learned from the state of New Hampshire in two different primaries 36 years apart.
Kerry remembered how activists sent the world a message in voting for challenger Sen. Eugene McCathy over incumbent President Lyndon B. Johnson in the state's 1968 Democratic primary, resulting in Johnson dropping out of the race.
Kerry also recalled the connections he made in New Hampshire during his 2004 presidential run: "In New Hampshire I never felt alone,'' he wrote.
But most importantly, Kerry reminded us of the good jokes the "wise acre'' reporters had for him in 2004.
In 2003, I was written off as political road kill. A reporter wrote that I looked like the Granite State's fabled "Old Man of the Mountain,'' and then that rocky edifice crumbled days later. The wise guys laughed at the simile.
That reporter wasn't far off about the then-Massachusetts senator's resemblance to the granite formation, which collapsed May 3, 2003.
Down by double digits in state polls to Vermont Gov. Howard Dean, Kerry recalled that the reporter jokes didn't stop there.
One gray and misty day we held an event on the banks of the Merrimack River, a short hike through the trees off the main road. Not more than 20 feet away, I could hear the Boston television wise acre recording his promo for what would be the latest political obituary: "Live from Manchester — Howard Dean surging in the polls and we're lost in the woods with John Kerry.''
However, Kerry's campaign didn't crumble like his rock-based likeness. Instead, showing he can take a joke, he noted, "I just kept my head down and my formidable chin up.''
Despite still trailing within weeks of the primary, Kerry eventually surged ahead and won New Hampshire, en route to the Democratic nomination.
Looks like the joke was on us.