Local
New Hampshire poll: Bernie Sanders leads Hillary Clinton by 27 points
No, that's not a typo.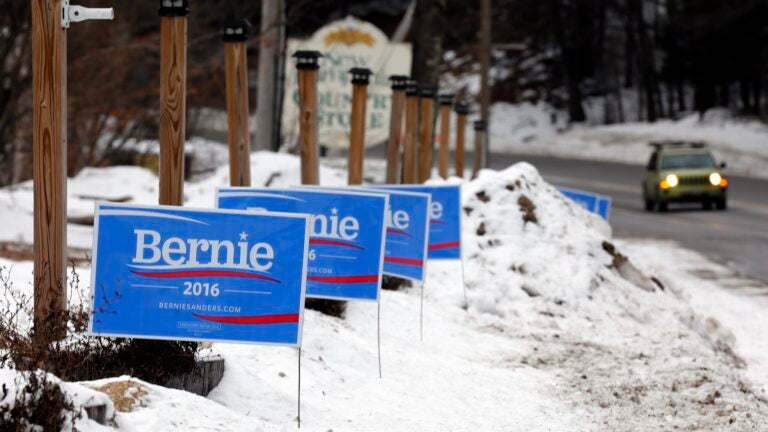 A new CNN/WMUR poll finds Bernie Sanders leading Hillary Clinton in New Hampshire — this time by more than ever before.
Sanders leads Clinton 60 percent to 33 percent among likely New Hampshire voters polled January 13 to 18, according to the poll conducted by the the University of New Hampshire Survey Center released Tuesday. The advantage is a 17-point increase since CNN/WMUR's December poll, which found Sanders leading Clinton 50 percent to 40 percent.
The Vermont senator's 27-point lead is the by far the biggest margin any recent poll has found. The previous seven New Hampshire polls taken since the New Year have indicated anywhere from a 3-point Clinton lead to a 14-point Sanders lead. Six of those seven polls showed the Vermont senator ahead. RealClearPolitics' polling average gives Sanders an 11.4-point lead.
In Tuesday's poll, Sanders leads Clinton 70 percent to 25 percent among voters that are not registered with a political party. But he also leads the former secretary of state 50 percent to 41 percent among Democrats.
Sanders favorability among Democratic voters also remains "astonishingly high,'' the poll found.
After the Decemeber poll found that 83 percent of Democratic voters viewed Sanders favorably (compared to just 9 percent unfavorably), a UNH pollster told Boston.com that the Vermont senator's popularity was "almost unheard of'' this far into the campaign.
The new poll finds Sanders' favorability has increased even further — 91 percent say they have a favorable view to just 2 percent who say they have an unfavorable view.
Brendan Nyhan, a Dartmouth College political scientist, told Boston.com that Sanders is viewed so favorably because of a lack of negative information about him, despite the Clinton campaign's recent uptick in negative attacks.
"People just haven't heard nearly as many negative arguments against Sanders as they have against Clinton,'' Nyhan said, noting how some Republicans have actually tried to boost the Sanders campaign. Clinton has not been so lucky.