Local
Ernie Boch Jr. says he wants to donate $1 million to Donald Trump
If only he could.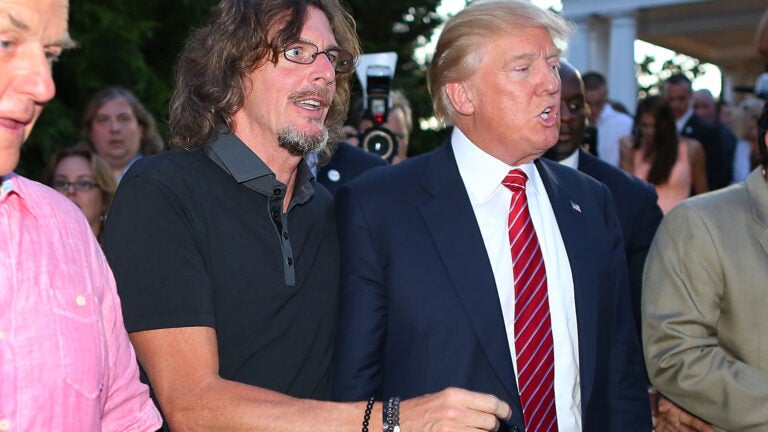 Massachusetts car dealer Ernie Boch Jr. — who already tried to donate too much money to presidential candidate Donald Trump — wants to donate $1 million to the billionaire's campaign.
And he would, if not for Trump's rejection of any super-PAC support.
In an article published Wednesday in The Hill, Boch was one of several wealthy Trump donors wishing they could give more than the individual campaign contribution limit of $2,700.
In August, Boch attempted to cover the $86,936.80 cost of a Trump campaign event the billionaire dealership mogul hosted at his Norwood mansion. However, the in-kind donation far exceeded the $2,700 limit, and the Trump campaign had to refund Boch $84,236.80 at the end of the filing quarter.
Boch told The Hill that his fellow Republican friends thought he was "nuts'' to support Trump.
"People were going crazy that I was having him over to my house,'' Boch said. "A lot of my friends were afraid to say that they were supporting him because it just wasn't politically correct.''
However, now Boch says his "moderate'' and "establishment'' GOP friends "are coming to terms with the idea that this is the guy.''
"This is who is going to be the GOP leader,'' he added.
Both nationally and in New Hampshire, Trump is leading Republican presidential primary polls by double digits, according to polling averages.
Trump's campaign pitch has included a critique of money's influence in politics, and in October, the Republican told super PACs supporting him to give back all contributions to their donors.
But if Trump becomes the Republican presidential nominee, Boch and other donors said they think he would accept extra support.
For that, however, they'll have to wait and see.
Read The Hill's full piece here.