Local
Why the Green Line's new countdown clocks measure 'stops away' instead of time
Not that commuters are complaining.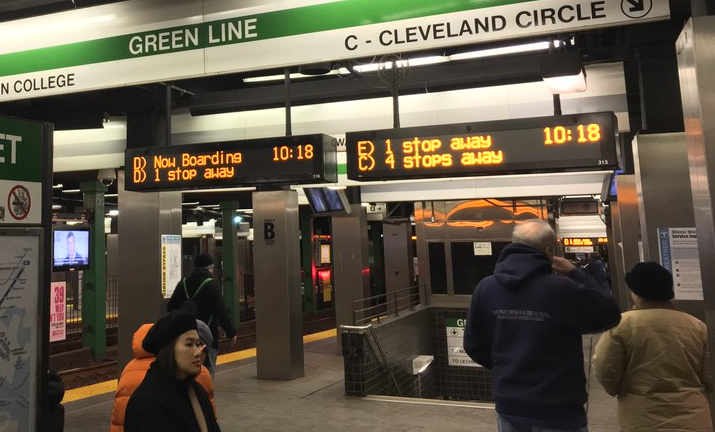 While most MBTA stations have had countdown clocks for a couple years now, the T finally began providing real-time information at the eastern end of the Green Line last week.
From Science Park to Boylston stations, commuters on the westbound platform heading into Boston now know when their next train is coming.
Sort of.
These countdown clocks aren't exactly "clocks'' in the regularly understood sense. Rather than providing how many minutes away a trolley is, the electronic boards measure a trolley's arrival by the number of stops it still has to make.
[fragment number=0]
The reason for the "stops away'' metric, according to the T, is that there isn't a reliable way to predict how long it will take to travel through those stations.
"[I]t's difficult to predict how long a train will take to turn around and head back westbound,'' MBTA spokesman Jason Johnson said in an email. "Due to the dynamic nature of Green Line operations, some trains are held to smooth out service and others can pass them.''
When the eastbound trains reach the end of the Green Line and turn around, operators will even out gaps in service or change the order of trains. But once the westbound trolleys pass Park Street, few adjustments are made, the T said.
"It's simply a predictability issue,'' Johnson said. "At the moment 'stops away' is the best we can do, but we are actively working on getting service adjustments input digitally into the prediction system so we can give a reliable number of minutes away.''
Commuters are just happy to get any real-time information. Johnson said the T has received "overwhelmingly positive'' feedback from Green Line riders after being left in the dark for so long.
[fragment number=1]
[fragment number=2]
[fragment number=3]
Research has shown that riders are more satisfied and less frustrated with transit service when they are given expected arrival times for their ride. The countdown clocks have also been a boon to the kiosks selling coffee and food to commuters who know they have a few minutes to spare.
As Tom Petty once said, the waiting is the hardest part.