Local
Mayor Marty Walsh affirms his support for a $15 minimum wage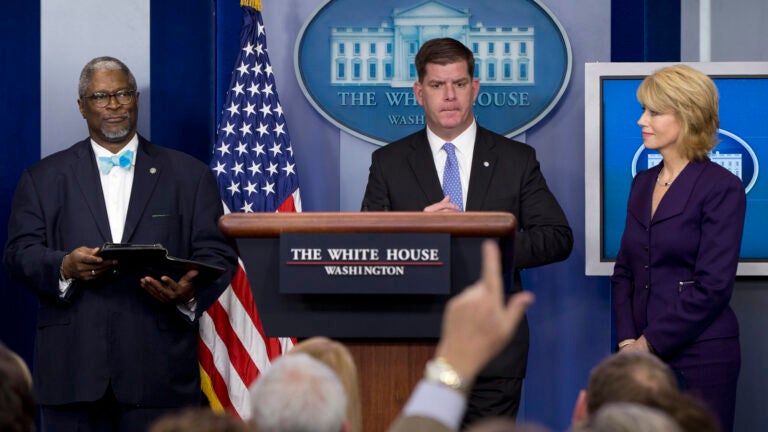 After Mayor Marty Walsh announced a task force to study a $15-an-hour minimum wage in Boston during Tuesday night's State of the City address, there were some questions as to whether he actually supported the policy.
During a press briefing Thursday in Washington, D.C., where Walsh was visiting for the U.S. Conference of Mayors, a reporter pressed him on specifically that question.
"I think there's some question about whether you support a $15-an-hour minimum wage, or whether the study is to determine whether you would support it,'' the reporter asked.
"Both,'' Walsh said. "The study is for both. I support a $15-an-hour minimum wage, but also we're going to have business leaders, nonprofits, community workers sitting down talking about how will this be implemented, what the effects will be.''
While in D.C., Walsh said he also briefly discussed the policy with President Barack Obama and Labor Secretary Thomas Perez.
"I certainly support a $15-an-hour minimum wage,'' Walsh reiterated. "As a legislator, I voted for the increase in the minimum wage a couple times in Massachusetts. But this is a task force to really look at how we're going to get there. I know that also we're going to need a state law change to get there.''
Massachusetts raised its minimum wage to $10 an hour January 1, above the federal wage floor of $7.25 an hour. The state is set to increase it to $11 an hour in 2017.
Walsh noted how Seattle recently instituted a $15-an-hour minimum wage, and that three Boston hospitals — Boston, Tufts, and Beth Israel medical centers — did the same for their employees in December.
"We're starting to see the momentum going that way, so I felt it was the appropriate time,'' Walsh said.
The mayor also mentioned a recent Brookings Institution study, which found Boston had the highest inequality of all American cities, as a reason for acting now.
"We have to address those issues,'' he said.