Local
How rare is it to get so many school threats? Nobody knows.
There isn't a comprehensive data set on threats of violence against schools.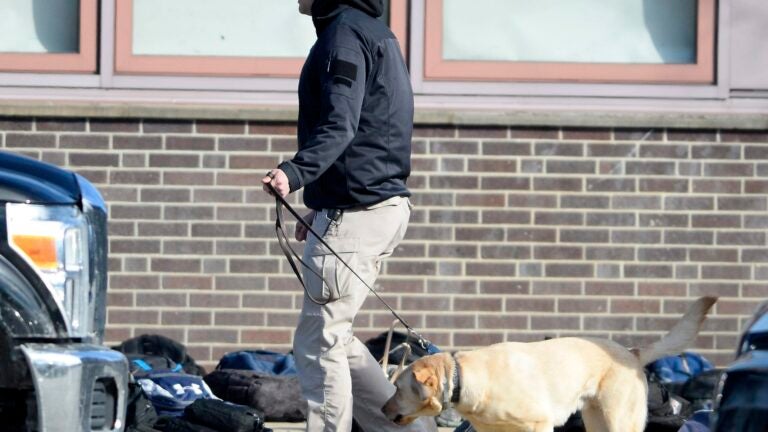 In the past week, Massachusetts schools have been hit with a series of threats that have caused evacuations, disrupted classes, and created anxiety among parents. The worst day was Tuesday, when officials said schools in 15 districts had received threats, prompting the Federal Bureau of Investigation to get involved.
Authorities don't know what caused the recent barrage of threats. There's no comprehensive data regarding violent threats against schools in the U.S.
The FBI's Uniform Crime Reporting program, which collects data on a wide range of offenses, does not collect data on school threats, a spokesman said.
"[W]e don't have a comprehensive picture as far as stats go because we're not involved in every threat and not all are reported to us,'' FBI Boston spokeswoman Kristen Setera told Boston.com.
National School Safety and Security Services, an Ohio-based consulting firm focusing on school safety strategies, has attempted to fill this data void with its own research. The company tracked every school threat that was covered by local media from August 1, 2014 to December 31, 2014, and attempted to analyze the 812 threats they found.
Company president Ken Trump emphasized that the results were "not scientific'' and were just a "snapshot'' of what's going on around the country. Still, the study gives some general trends that would be valuable for school threat assessments.
For one, the threats studied were spread evenly across all five school days, "dispelling the myth that more threats are delivered on Fridays so kids can get out of school for a long weekend,'' Trump said.
Of the incidents studied, 37 percent involved an electronic threat, such as an email.
"That's a huge percentage,'' Trump said. "It is a huge chunk of overall threats and reflective of the trend we're seeing.''
Juliette Kayyem, a national security analyst who hosts the WGBH podcast Security Mom, also said that a data set would be "helpful.'' However, she said it might not be worth its cost.
"I'm not sure if a national study would provide as much information or guidance as, say, a rigorous focus on best practices and intelligence assessments,'' Kayyem said.
In just one of several cases this week, those practices had to be used after Arlington High School received an automated call saying someone would detonate a bomb hidden in a backpack and then shoot students as they fled, police chief Frederick Ryan said.
Arlington Police assessed the situation and advised Arlington Schools superintendent Kathleen Bodie, Ryan said. Her ultimate decision was to evacuate students and send them home for the day. Once the school was emptied, police and explosive-detecting dogs swept the high school and determined the threat was unfounded.
Kayyem said the way Massachusetts schools assessed the threats was "praiseworthy.''
"It's very difficult to look back and say that was right or wrong of that school to close. But if the process is rigorous … then I can't condemn it,'' she said.