Local
Presidential campaigns pause in New Hampshire for the Patriots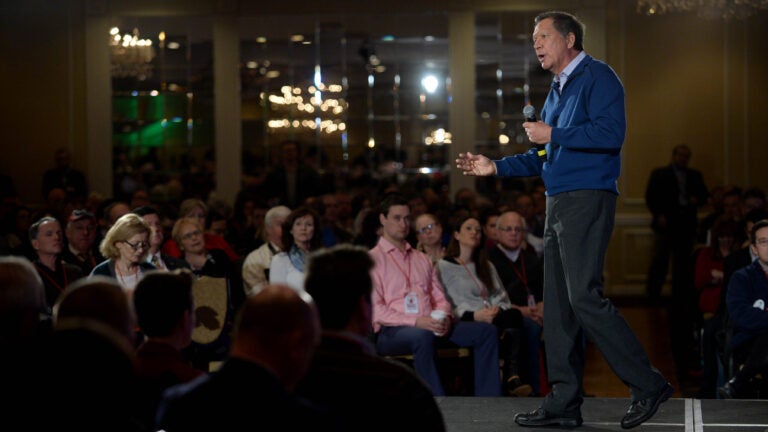 After a busy week that saw presidential candidates scatter across New Hampshire for dozens of campaign stops, Sunday featured a lighter schedule. And for good reason: The Patriots.
New England's home team has a Super Bowl trip on the line Sunday afternoon against the Denver Broncos.
Despite a contested primary race in both parties, Sunday's schedule lists only three campaign events, one of which is a Patriots watch party. For comparison, there were at least 25 scheduled candidate appearances New Hampshire on Friday and at least 18 on Saturday.
Republican Ohio Gov. John Kasich, battling for second place in the state behind Donald Trump, is one of two candidates to schedule a campaign event Sunday.
Kasich's 1 p.m. town hall in Goffstown should be finished by 2:15 p.m., campaign spokesman Chris Schrimpf told Boston.com, giving Patriots fans a good 50 minutes to get back in front of their TVs before the 3:05 p.m. kickoff.
Kasich's campaign is also suspending all phone calls and door-knocking activities in the state during the game.
"Being from Ohio, we know how important football is,'' Schrimpf said.
Also seeking a runner-up finish in New Hampshire, Chris Christie is the other candidate to campaign in the state Sunday. After a noon town hall in Portsmouth, the New Jersey governor (and Dallas Cowboys fan) has a Patriots watch party scheduled at 3:30 p.m. in Hampton Falls.
Meanwhile, all three Democratic candidates — Hillary Clinton, Bernie Sanders, and Martin O'Malley — as well as Republican Marco Rubio, are spending Sunday campaigning in Iowa.
In an interview earlier this week, New Hampshire Sen. Jeanne Shaheen was asked if candidates should even bother campaigning during a Patriots game.
"Absolutely not,'' Shaheen said, adding that it would only be acceptable if a candidate was holding a watch party.
But don't go interrupting New Hampshirites in the midst of Sunday afternoon's rivalry matchup.
"You don't want to make phone calls,'' Shaheen said. "You don't want to knock on doors during that Patriots game.''
Despite the problems a Patriots appearance in the Super Bowl could continue to cause for the presidential campaigns, at least they will either way have an opportunity to make up lost ground next Sunday during the off-week. It's doubtful anyone, in New Hampshire or not, will mind if they get interrupted during the Pro Bowl.