Local News
This Boston investor is rushing after marijuana gold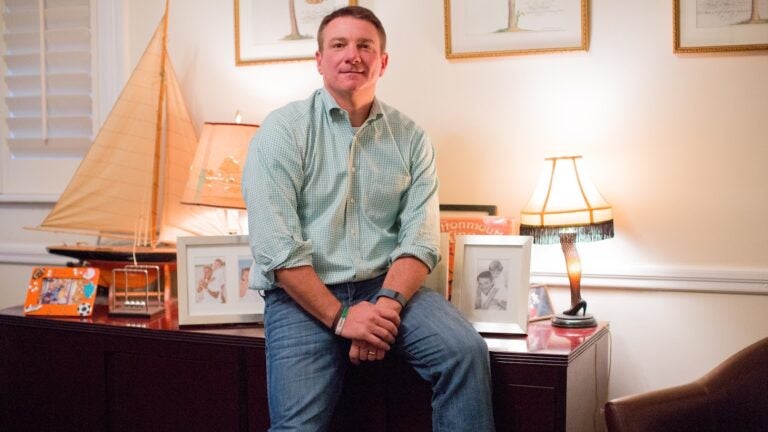 It was 2012, and Douglas Leighton wanted to pour some money into marijuana.
Leighton, the co-founder of a Boston-based hedge fund called Dutchess Capital, had done his homework. He saw public opinion shifting in favor of cannabis. Laws had already begun to follow, including the legalization of medical marijuana in Massachusetts.
And as the legal landscape changed, a $50 billion black market was about to emerge into the sunlight—marking a major investment opportunity.
Plus, he admitted, he just enjoyed smoking pot.
"It's what got me interested in it, definitely,'' Leighton said.
Since 2012, recreational marijuana has become legal in Colorado, Washington, Oregon, Alaska, and Washington, D.C. Several other states—including Massachusetts—are likely to vote this fall. Medical marijuana, meanwhile, is now legal in 23 states.
The cascade of legal change has created an industry gold rush. And Leighton has emerged as an archetype of the capitalists chasing green with green.
"He was one of the earliest and one of the largest investors,'' said Troy Dayton, CEO of the ArcView Group, an organization that connects investors with cannabis-focused businesses and counts Leighton as a member.
ArcView investors have funneled more than $63 million into 101 pot companies since 2010—more than half of which came in 2015, Dayton said. Leighton joined the group in 2013 after struggling for months to find pot-related companies to invest in on his own.
"The industry was being serviced by essentially a cottage industry of drug dealers who really aren't that good of businessmen,'' Leighton said. "We searched around and looked for different companies, and essentially we were interviewing drug dealers.''
Leighton, a 47-year-old Boston resident, co-founded Dutchess more than 20 years ago. Based in an old Back Bay office building, the "industry agnostic'' fund has made about 400 total investments across various sectors, from technology to mining.
Of late, however, Leighton has focused heavily on cannabis. Since 2013, he has tallied more than 20 deals in the industry.
Watching an industry quickly come online is not without its challenges, however.
Regulations in early legalization states have been fickle, causing companies to scramble to keep up, Leighton said. Changes in rules about marijuana packaging, for instance, can cost a company hundreds of thousands of dollars to adjust, he said.
"But that's investing, you know?'' he said.
There's also a more existential risk: Even as states legalize it, marijuana remains illegal under federal law. If Washington ever cracks down, the party could be over.
So Dutchess has looked for pot investments that run the gamut, with companies that, Leighton said, "do and don't touch the plant.''
Roll-uh-Bowl sells silicone bongs that can be easily folded and stored for hikers or runners. Dixie Elixirs is a leading producer of edible cannabis. Foria sells THC-infused sexual lubricant. Tamer holdings include an industry consultancy and a grower.
Leighton's first foray into the sector came in 2013, when he became the first funder for MassRoots, a Colorado-based social network for marijuana users that began trading publicly last year. Its market cap in January was about $40 million.
The company can serve industry ads that can't be placed on other social networks, Leighton said. But he sees the network's bigger opportunity as that of a data juggernaut that can collect and utilize troves of information about pot consumers and businesses.
"It knows what people on the West Coast are smoking now,'' he said. "And most trends begin on the West Coast and go east, so it can tell the dispensaries on the east: Start growing…the popular strain on the West Coast right now.''
Dutchess has bought a few companies outright and has stakes ranging from 3 percent to 25 percent in the rest, Leighton said. He declined to say how much money he's invested in the industry overall.
The role of big money in marijuana reflects a broader conflict in cannabis culture over a pot-industrial complex, with some activists arguing whether deep-pocketed groups are destroying the grassroots marijuana lifestyle.
Developing corporate enthusiasm for pot legalization was a big reason for creating the ArcView investor network in the first place, said Dayton, who previously worked at (and now sits on the board of) the Marijuana Policy Project, a powerful national advocacy group.
"We discovered that if you want something done in the world, you've got to make it profitable,'' he said.
Leighton has given $1,000 to the Campaign to Regulate Marijuana Like Alcohol, a Marijuana Policy Project-backed group that has proposed a 2016 Massachusetts ballot question about recreational legalization.
The ballot question would create a new state commission to oversee marijuana sales in licensed establishments, tax retail sales, and give first dibs on retail licenses to existing Massachusetts medical marijuana dispensaries. One dispensary, Coastal Compassion in New Bedford, counts Leighton as a funder.
Mike Crawford, a local pot activist and writer, said the money entering the industry presents both perks and problems.
"When I started [in activism], everybody was in it for social justice,'' he said. "Now, so many younger kids I see coming up—they still consider themselves activists, but they're all talking about it as an industry. I think there's some problems with that. … Big businesses, monopolies, can shut out the little guy.''
But he said he's also glad to see investment creating business opportunities for marijuana enthusiasts.
Leighton describes himself as both an investor and an advocate who strongly believes in the plant's medical properties. He said he doesn't want pot legalization to benefit powerful corporate interests at the expense of smaller companies just starting out. But down the line, with so much money coming into the industry, that fate may be inevitable, he said.
"Eventually that will happen,'' he said. "Because that's what happens.''