Local
Boston closes public schools Friday, prepares to clear streets, train tracks for morning commute
Forecasters are predicting four to eight inches by the early afternoon.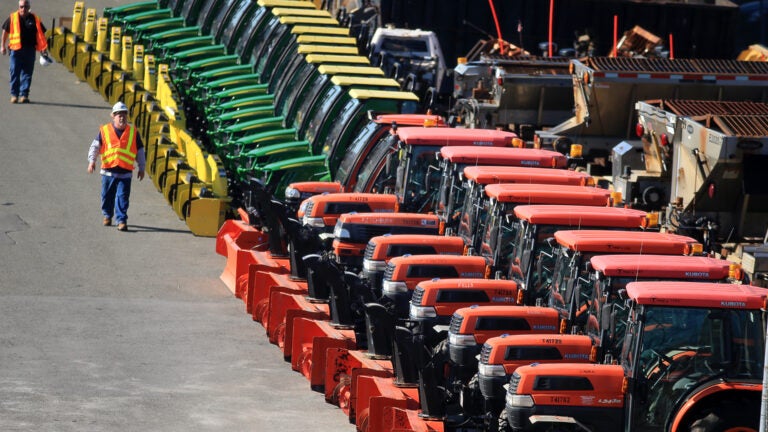 While Boston hasn't declared a snow emergency ahead of Friday morning's storm, the city announced the closure of public schools and plans to dispatch 500 trucks to pre-treat roads, hoping combat a potentially snowy, slippery morning commute.
"With expected accumulations of four to eight inches over the next 22 hours, we are acting out of an abundance of caution for the safety of our residents, especially our children,'' Mayor Marty Walsh said in a press release Thursday evening. "Our Office of Emergency Management will continue to monitor the storm throughout its duration. I'm asking residents to remain vigilant during this snow event and keep an eye out for our neighbors, especially our seniors during this time.''
As long as there's no snow emergency, space savers won't be allowed on the streets, according to the release.
The storm, which is expected to begin overnight, could pose problems for drivers and MBTA commuters. While forecasts initially predicted the storm would hover off the coast, four to eight inches of snow are now predicted in the Boston area by the early afternoon, and the National Weather Service has issued a winter weather storm advisory beginning at 1 a.m. Friday.
Despite the short notice, officials don't expect the city to come to a halt.
"Keolis and the MBTA have been working hard since last spring to prepare the commuter rail system for winter,'' MBTA spokesman Joe Pesaturo said in an email to Boston.com. "This includes the purchase of new snow-fighting equipment, development of a new snow and severe weather plan, and the appointment of a Snow Manager to coordinate actions across all departments to ensure the continued safe operation of the MBTA Commuter Rail system.''
Pesaturo said that some trains may run after the regular schedule to clear tracks and ensure the cars will be up and running. Teams will also be working overnight to spread salt and sand around stations, clear entrances and outdoor platforms, and check that switches on main lines and maintenance facilities are accessible and operational, he said.
Still, he encouraged riders to monitor schedule delays or changes by signing up for T-Alerts or following the commuter rail's twitter.
As for the roads, the Public Works Department plans to have the 500 trucks pre-treat roads by 6 a.m. The city's salt supply is at its capacity — 40,000 tons — and officials have scoped out two snow farms, Samantha Ornsby, spokeswoman for Mayor Marty Walsh, told Boston.com in an email.
If needed, they'll break out the two new truck-mounted snow blowers the city purchased after last year's record snowfall, taking a hint from snow removal experts in Montreal. If that's not enough, Ornsby said the city has access to a melting machine that can make 135 tons of snow disappear each hour.